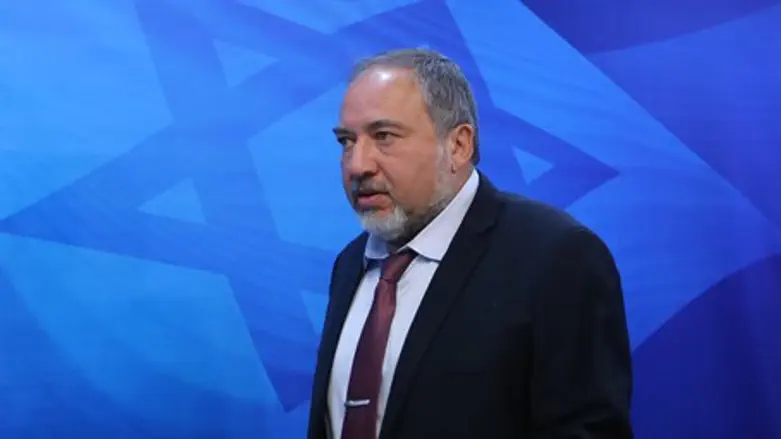 Avigdor Liberman
Alex Kolomoisky/POOL/Flash 90
Foreign Minister Avigdor Liberman (Yisrael Beytenu) on Monday responded to the rioting and calls for investigation over the shooting of an Arab terrorist in Kafr Kanna in the Galilee, who attacked officers with a knife on Saturday night.
"Someone who goes crazy with a knife on a police car is being portrayed almost like an innocent child, a saint that was killed," Liberman said.
The foreign minister continued "we saw the pictures, and we saw incidents in the past in which officers did not act firmly and paid with their lives. Whoever attacks with a knife has to understand he is endangering his life - that must be the message."
In the incident, the terrorist Hir Hamdan was captured on video attacking a police car repeatedly with a knife, and stabbing at an officer who tried to exit the vehicle. When the officer finally managed to make his way out, he shot the knife-wielding terrorist dead.
The leftist NGO Abraham Fund on Monday called on police to launch "a quick and thorough investigation" of the shooting 
In its call for an investigation, the NGO demanded police "act to stand on trial those responsible after a clarification of the facts." The group appears to be establishing the results of an investigation in advance by calling for a trial at its conclusion.
The Abraham Fund went further by demanding the investigation be exposed to the public and be broadcast in Arabic, claiming such steps would stop rampant Arab terrorism and violence that has ratcheted up since the incident.
In May, MK Yoni Chetboun (Jewish Home) charged the Abraham Fund with supporting the educational syllabus for "Nakba (catastrophe) studies" at the Zochrot organization, supporting calls by the organization Mossawa to change Israel's anthem and flag, and partnering with organizations that encourage disobedience and putting IDF officers on trial abroad.
The Israel-based Adalah Legal Center for Arab Minority Rights has likewise attacked police over the shooting of the terrorist, calling it an "execution."