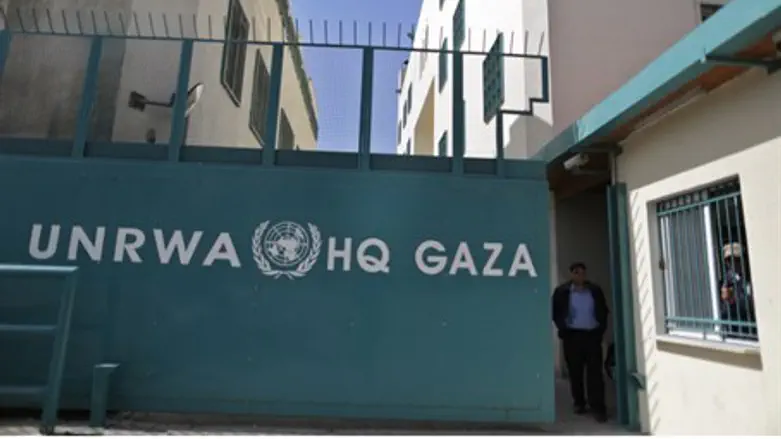 UNRWA HQ in Gaza
Flash 90
The UN Palestinian aid agency which made headlines for harboring Hamas's rockets is to make its largest ever financial plea to donors, it said on Thursday, asking for $1.6 billion to "rehabilitate Gaza" after Hamas's most recent terror war.
"This is the largest single ask in UNRWA's 64-year history," spokesman Christopher Gunness told AFP ahead of an October 12 international donors conference in Cairo.
"The figure we are requesting at Cairo is $1.6 billion, which makes this...unprecedented," he said, claiming that nearly half of that sum would go towards rebuilding homes damaged during the 50 days of war in July and August.
UNRWA outlined its post-war emergency plan in a 15-page document, a copy of which was seen by AFP. It pledged to prioritize reconstruction of housing and UNRWA facilities - several of which housed Hamas terrorists and rockets during the war.  
Three UNRWA schools were found during the course of Operation Protective Edge to have stored rocket caches for Hamas and Islamic Jihad. After the first find, UNRWA workers called Hamas to come remove them to use in their terror war on Israeli civilians, instead of destroying the weaponry. 
In another incident, three IDF soldiers were killed and seven others wounded in a booby-trapped UN clinic that was situated on top of terror tunnel entrances, showing the complicity of the UN in Gaza-based terror against Israel.
All this money and nothing to show for it
The Cairo conference will be attended by the United States, the European Union, Arab countries and various monetary and humanitarian organizations.
The Palestinian Authority (PA) unity government has already asked for more than $4 billion to rebuild the coastal territory, which is home to some 1.7 million people.
And while an international conference in March saw $200 million donated to the terror-run territory - and donations from the US and France reached a combined $61.8 million - the money is apparently still not enough for Hamas, nor for UNRWA, leaving many asking why.
Ample evidence has proven that Hamas uses UN and other aid money, as well as materials, to build terror tunnels into Israeli territory with the aim of attacking Israeli citizens - instead of providing buildings to its own citizens. 
To illustrate this, the IDF revealed during the course of Operation Protective Edge that 4,680 trucks carrying 181 thousand tons of gravel, iron, cement, wood and other supplies have passed through the Kerem Shalom crossing into Gaza since January 2014 - much of it directly from Israel to fund civilian projects. 
Instead, however, a network of over 30 tunnels was found during the ground offensive, with each tunnel costing roughly $3 million to build. For every Hamas terror tunnel, the IDF stated, there was enough building materials to build 86 homes; seven mosques; six schools; or nineteen medical clinics. 
Meanwhile, Hamas has begun to rebuild terror tunnels on foreign aid money - but despite this, the UN already joined the PA in making a call for $550 million to rebuild Gaza.