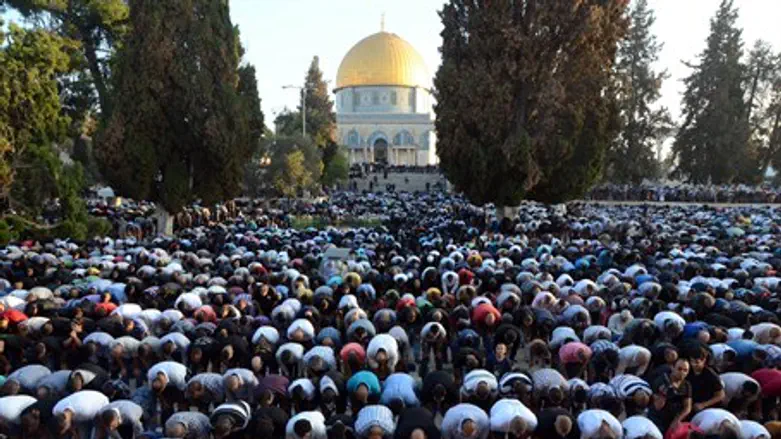 Muslims pray to Mecca from Temple Mount
Flash 90
The Coordinator of Government Activities in Judea, Samaria and Gaza (COGAT) on Wednesday evening announced that Gazans will be allowed to travel to Jerusalem for the upcoming Eid al Adha holiday, part of a series of measures decided upon by Israel for the benefit of Palestinian Arabs during the holiday.
As part of the announced measures, the IDF decided to approve 500 family visits in Gaza to Palestinians residing in Judea and Samaria over the age of 60. 200 permits for travel abroad via the Ben Gurion Airport will be given out to Palestinian Arab businessmen.
500 residents of Gaza, aged 60 and over, will be permitted entry to the Temple Mount complex for prayers on each day of the holiday. In addition, Israel will permit 500 Gaza residents over the age of 60 to visit relatives (first degree) in Judea and Samaria.
Israel has also approved exports of agriculture, including fisheries, from Gaza to Judea and Samaria.
Major General Yoav Mordechai, head of COGAT, updated senior officials in the Palestinian Authority and the international community regarding the measure, according to a COGAT statement.
The COGAT announcement is confirmation of an announcement made Tuesday at a weekly Palestinian Authority (PA) unity government meeting.
The move comes as part of a general increase in the number of Gaza residents allowed to travel into Judea and Samaria, a gesture in the ongoing ceasefire talks between Israel and the terrorist organization Hamas, which are to resume in Cairo in the last week of October.
Arab rioters have already been attacking police officers and Jewish visitors to the Temple Mount, the holiest site in Judaism, on a regular basis - last Wednesday ahead of the Jewish New Year (Rosh Hashanah) that violence boiled over in wild riots. It has been revealed that Hamas has been actively fanning the violence and funding riots on the Temple Mount to create instability in Israel.