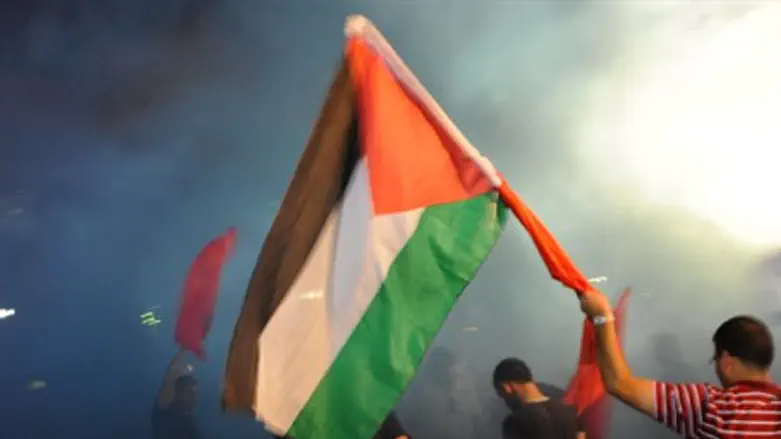 PLO flag
Flash 90
A Palestine Liberation Organization (PLO - the terror group behind the Palestinian Authority) flag was spotted hanging from a utility pole near the Lion's Gate last week, a Jerusalem resident reports - and the municipality refused to take it down until it caused someone to get hurt.
"I called the police and the dispatcher told me it was illegal," a woman, who wishes to remain anonymous, told Arutz Sheva Friday. "I turned to the municipality where I was told they are afraid of a 'pogrom.'"
"When I returned at eleven at night and saw that the flag was still there, I decided to do something," she continued. "It's just shameful that this flag hangs five minutes from the Kotel [Western Wall]."
She and a neighbor went to go take the flag down the next day, but were attacked by Arab teenagers guarding the flag.
"Two Arab youths guarded it," she said. She had come with a four meter-long stick and tools to cut the flag down. "As soon as I started cutting it, a whistle sounded, and thirty Arab youths surrounded me and began throwing rocks at me."
"I was injured, but not seriously - but we left anyway," she said. 
Later that day, the police forces came to finally remove the flag; it was later brought to the victim of the attack.
"They brought it to us and we burned it," she said. "I expect all members of our community to rally to enact a law against hanging PLO flags in Jerusalem." 
"The flag symbolizes hatred and murder," she added. "I saw the hatred in their eyes, how they were not afraid to hurt a woman, a mother of children.  I am ashamed of our police and the Jerusalem municipality; Israel's dignity was humiliated, and their silence is giving that humiliation free reign."
The incident surfaces after weeks of rioting and unrest in Jerusalem, stemming from events surrounding the murder of three Israeli teens, the alleged"revenge murder" of a 16 year-old Arab teen, and the outbreak of Operation Protective Edge in Gaza. 
The Jerusalem Police has not responded to requests for comment.