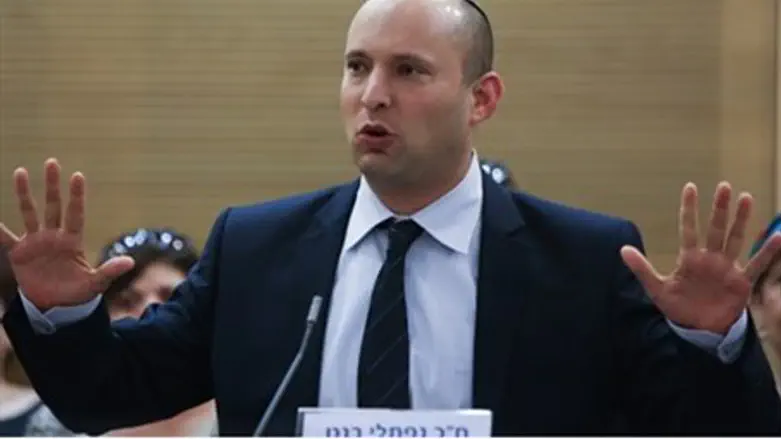 Naftali Bennett
Flash 90
Economics Minister and Jewish Home (Bayit Yehudi) Chairman Naftali Bennett wrote an open letter to Arab Israelis Sunday, explaining his stance on the possible deal to exchange peace talks for more terrorist releases and why it harms Israel's Israeli-Arab minority. 
"In this letter I turn to you, Arab-Israeli citizens of Israel, to explain things," he begins. "There are many reasons to oppose the release of Israeli-Arab terrorists. First of all, they are murderers. Murderers do not get released. This is obvious, this is simple, it is strange to have to remind [the public] of this and explain it." 
"Jewish Home opposes the decision to release terrorist murderers now and they will in the future," he continued. "A man who gets up in the morning with the intent to take the lives of men, women, and children is not even acknowledged as a man - we must punish him in the strictest terms possible. There is no forgiveness." 
"In addition, releasing terrorist murderers encourages terror. This is also simple and obvious. Whoever sees his friends released from prison, received with a king's welcome and wealth after committing murder will [take it as an example] and the likelihood of him turning into a terrorist himself grows." 
Damage to Equal Rights
Bennett also explained that the move would harm Israeli-Arabs' national image as a minority group. 
"For you, Israeli Arabs, this subject brings up a touchier issue - the connection between you and the State of Israel," he said. "A deal to release Israeli Arab terrorists would turn you, it seems, into second-class citizens. It hurts you, first and foremost."
"A deal whereby the head of Fatah demands the release of Israeli Arab terrorists is a disgrace - which is not right - to the Arab sector," he continued. "A deal like this damages your drive for equal rights. After all, if 'Abu Mazen [Abbas - ed.] will arrange it for you,' then Jewish Israelis will say, 'let him arrange everything for you,' then." 
Damage to the Workforce
Bennett then related to extra efforts by the Israeli government to ensure Israeli Arabs integrate well into wider society, including the workforce. 
"Last year, I instructed the Ministry of Economy [. . .] to make integration of the Arab sector into public employment top priority," he stated. "To this end, we have invested tremendously in employment centers - especially for Arab women - and given special incentives to employees and employers and increased subsidies for daycare centers by tens of millions of shekels."
"We have established business centers for the Arab public, established a loan fund for Arab women who wish to become entrepreneurs, and more," he continued. "Just this week I met a group of hi-tech Arab entrepreneurs in Nazareth, to help them break into the international market."
"We - the Israeli government, investors, and the public - believe in the need to incorporate [Israeli Arabs] into society, but a deal like this comes and says that the public, as well as Mahmoud Abbas, makes this sector a part of the Palestinian Authority by default," he noted. "Would you like for fellow citizens, while you study at Tel Aviv or Haifa Universities, to look at you as representatives of a foreign organization, who have suddenly gained blue [Israeli] ID cards and now demand to be released from Israeli society? I don't agree with that, and whoever does, does not do so for your benefit, but to see you lose your legitimacy in Israel."
"I turn to you, each one of you, and say: respond yourselves to Abbas's request, and say that fine Hebrew phrase: 'Keep me from my beloved, I can protect myself from those who hate me.'"
"Or, in simple terms: This is no good," he concluded.