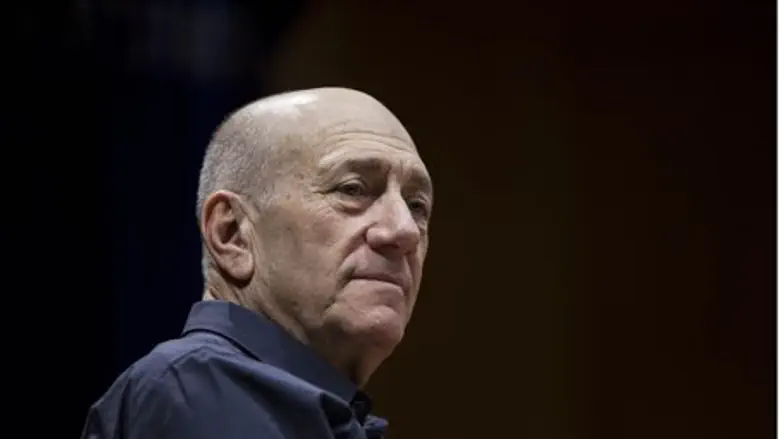 Convicted: Former PM Ehud Olmert
Flash 90
Tel Aviv District Court Judge David Rosen has convicted former Prime Minister Ehud Olmert of taking bribes, in connection with the infamous Holyland corruption scandal, utterly rejecting Olmert's version of events and determining that he was aware that large amounts of money were given to his brother, Yossi, by state witness Shmuel Dachner, now deceased. 
Olmert's former bureau chief Shula Zaken has also been convicted of accepting 100,000 shekels in bribe money, according to reports from the courtroom. Former Jerusalem Mayor Uri Lupolianski was also found guilty in charges related to the scandal.
Judge Rosen announced the acquittal of real estate men Shimon Galon and Amnon Safran, as well as former Israel Lands Authority head Yaakov Efrati. According to law, acquittals need to be announced at the start of the decision.
Other defendants convicted on bribery charges include former Jerusalem mayor Uri Lupoliansky, former city engineer Uri Sheetrit, and businessman Hillel Cherney. All in all, there were 13 people and three companies on the defendants' bench in this case. 
The judge noted that the testimony of state witness Dachner was detailed but also contradictory. He preferred Dachner's testimony to Olmert's, however, and it was the key to the conviction. Olmert "tried to besmirch the witness, even at the price of lying to the court," the judge added.
"Hundreds of thousands of shekels were transferred to public leaders," wrote Rosen. "The dirty money was given in order to advance the business of the people who gave the money. Every defendant has his own corruption case. Dachner came up with the idea and carried out the bribery deals. In the court, he answered the lawyers' questions as best he could."
Olmert's former bureau chief Shula Zaken
Flash 90
Dachner gave hundreds of thousands of shekels in bribes to Zaken, the judge determined. He also "bought Olmert's services," Judge Rosen wrote. Dachner gave Olmert's brother, Yossi, 500,000 shekels, as a favor to Ehud Olmert, the judge found. Yossi Olmert had been a successful and famous academician before he was plunged into debt and left Israel for the United States.
Dachner passed away in March of 2013, after being aggressively grilled on the stand by Olmert's lawyer Roi Blecher, who said at one point – "Mr. Dachner will answer our questions, no matter how many catheterizations he undergoes."
"We're talking about corrupt and filthy practices," Judge David Rosen saidwhile reading out the verdict, his remarks playing out across all Israelimedia.   
He also spoke of a "corrupt political system which has decayed over theyears... and in which hundreds of thousands of shekels were transferred toelected officials".   
Rosen also said the former premier had lied to the court in a bid to"blacken the name" of the state's witness. 
Olmert sat expressionless throughout the verdict.
Former Jerusalem Mayor Uri Lupolianski
Flash 90
'Jailtime likely'
The reading of the verdict is ongoing and has been followed live by Israeli media since it began, with reporters flitting in and out of the courtroom to report on the developments.
It was not immediately clear when the court would pass sentence, but somecommentators suggested that he could face a prison sentence.
"You are talking about a man who has already been convicted of corruption in a previous case at Jerusalem District Court," said Moshe HaNegbi, legal commentator for public radio.
"I don't see a situation, under these circumstances, where the prosecution does not ask for several years' jail time."
The sides are expected to file appeals to the Supreme Court.
In 2010, Olmert was named the key suspect in the so-called Holyland affair on suspicion that he received bribes totaling some 1.5 million shekels ($430,000, or 312,000 euros at today's exchange rate), although the prosecution later reduced the sum received by about half.    
He was mayor of Jerusalem from 1993 to 2003, after which he served as a cabinet minister, holding the trade and industry portfolio as well as several others, before becoming premier in 2006.  
He led the Kadima party into government following the incapacitation of former PM Ariel Sharon, but resigned from the premiership in September 2008 after police recommended that he be indicted in several graft cases.    
In July 2012, a Jerusalem court found Olmert guilty of breach of trust in a closely watched corruption case, but cleared him on two more serious charges related to the alleged receipt of cash-stuffed envelopes and multiple billing for trips abroad.    
He was fined $19,000 and given a suspended jail sentence for graft. The conviction related to favours that Olmert granted a former colleague while serving as the trade and industry minister.
The following people were found guilty of offering bribes in the case:
Hillel Cherney – entrepreneur, main holder of Holyland properties in Jerusalem.
Avigdor Kellner – entrepreneur
Meir Rabin – middleman
The following were convicted of taking bribes:
Ehud Olmert
Shula Zaken
Uri Lupoliansky – former Jerusalem mayor
Uri Sheetrit – former Jerusalem city engineer
Eliezer Simhayof – Lupoliansky's former deputy
Avraham Feiner – Jerusalem municipality official
Danny Dankner – former co-chairman of Salt Industries
The following were acquitted:
Yaakov Efrati – former director of Israel Lands Authority
Amnon Safran – entrepreneur
Shimon Galon – entrepreneur
Attorney Navot Tel Tzur, Ehud Olmert's lawyer, said that he was surprised by the verdict and the day was a difficult one for the people involved in the case. He added that the verdict had some innovative aspects, especially in the way it regarded so-called "machers" – the wheelers-and-dealers who facilitate business deals. He said that he would study the 700-page-verdict before decideing whether or not to appeal it.
Attorney Roi Blecher noted that Olmert was acquitted of two counts against him but had been convicted of asking for 500,000 shekels for his brother and receiving another 60,000 shekels.