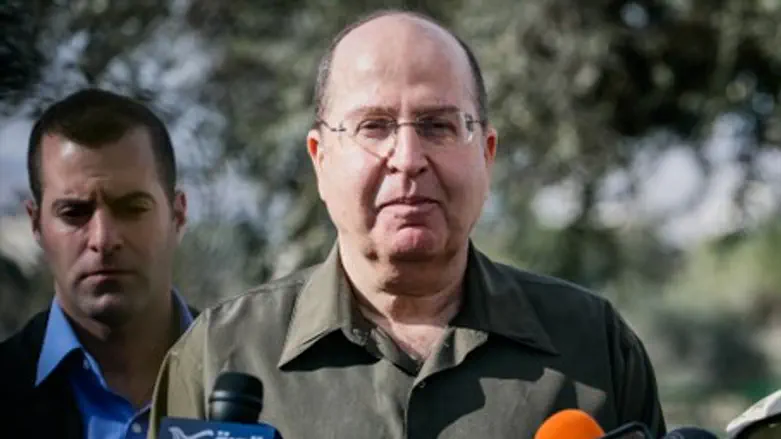 Moshe Ya'alon
Flash 90
Defense Minister Moshe Ya'alon hinted on Tuesday morning that in the event the US does not crack down on Iran's nuclear program, Israel is ready to engage in an armed military conflict with the Islamic Republic. 
"We thought that the people who should lead that campaign would be the United States," Ya'alon noted on Monday night, at an event at Tel Aviv University (TAU). In the speech, which was quoted by Ha'aretz, Ya'alon declared that Israel's approach to the situation is a matter of taking responsibility. 
"The US is at a certain stage of negotiations with them [Iran], and unfortunately in the Persian bazaar, there are better offers [for an international deal]," Ya'alon stated. "If we wanted the right moves to be made by others, they would not be made anytime soon - so the issue should be handled as a matter of 'if not for me, who will fight for me?" 
Ya'alon was adamant about the US taking the lead in attacks against Iran in the previous Knesset term, and took up the issue with then-Defense Minister Ehud Barak. 
Now, following the controversial Geneva deal between Iran and the P5+1 powers, the current Defense Minister has repeatedly launched harsh criticism against the US for its "soft" approach towards Iran. 
"Everyone knows Iran is lying," Ya'alon noted. "But the pampered West is satisfied with postponing conflict [with Iran over the nuclear program]." He added that it may be possible to stall Iran "until next year - or even after this term - but eventually, it will explode." 
Under the six-month interim deal which was reached in November and went into effect in January, Iran agreed to freeze its uranium enrichment program in return for sanctions relief worth some $6-7 billion, including the transfer of some $4.2 billion in frozen overseas funds.
That interim agreement is meant to lead to a final accord that neutralizes any potential Iranian nuclear weapons threat in return for a full lifting of sanctions. However, Iran has been noticeably downplaying the possibility of reaching such a final agreement, as Israel continues to warn the world that Iran continues to produce weapons aimed at Israel and the West.