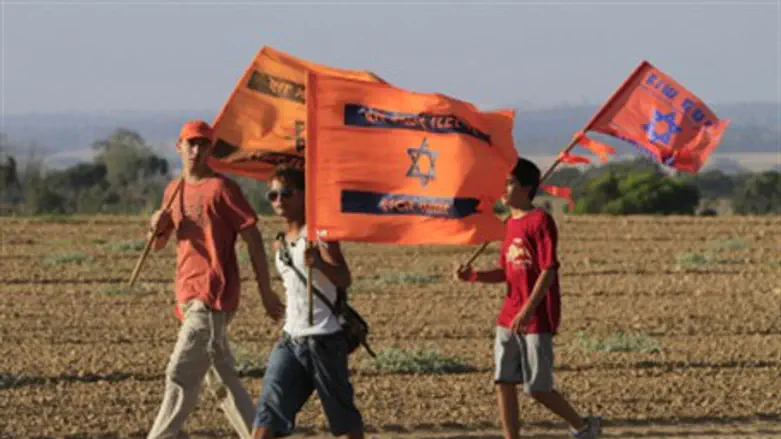 Gush Katif evictees, 2010 (file)
Flash 90
The volunteer Committee for Gush Katif Bridal Showers has been giving gift packages to newly-married couples from the expelled Gush Katif community since the 2005 expulsion.
Tonight, Wednesday, they will celebrate their 1,000th couple in a unique dance event at Jerusalem's Gerard Behar Theater.
The sold-out dance show features a partnership with "Dames of the Dance 7," and will bring 100 women and girls from Gush Etzion to the Jerusalem stage. All sales of the tickets will go to raise money for future gifts given by the Committee.
Lisa Goldenhersh told Arutz Sheva her Committee chose to focus on Gush Katif brides and grooms because "they were the teenagers during the expulsion, they really had a lot of trauma in their life because of being expelled from their homes and communities."
Goldenhersh notes the impressive success of the Committee in reaching 1,000 couples on a completely volunteer basis, a particular impressive feat given that each gift package requires the group to raise $1,500.
Those expelled in the 2005 "Disengagement" plan have hard a rough time coping, making the volunteer group's activities especially praiseworthy.
Last July, figures revealed 50% of the 9,500 Jews expelled remain homeless. 16% of the community also suffers from unemployment; when they were still in Gush Katif that rate was a mere 4%.