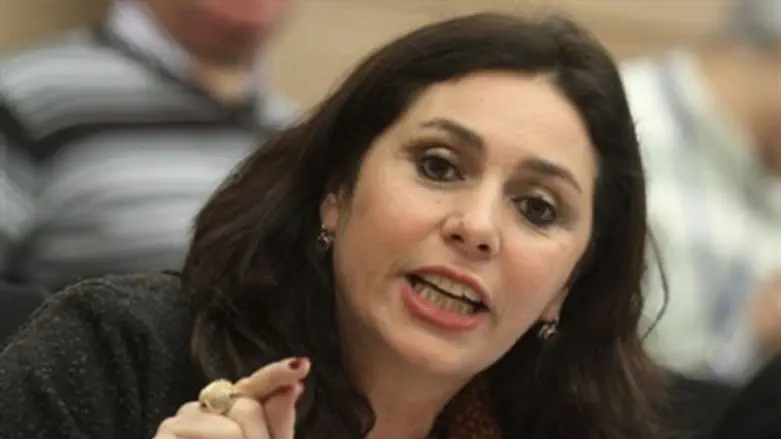 MK Miri Regev
Israel news photo: Flash 90
The Chairperson of the Knesset's Committee of Internal Affairs and Environment, MK Miri Regev (Likud-Beytenu) posted a Facebook attack Sunday against ministers from her party for voting against a bill she sponsored.
The bill would forbid the prime minister to carry out diplomatic negotiations on the status of the Holy City of Jerusalem, or on the so-called Arab "refugee" issue, unless the Knesset gives him permission to do so ahead of time.
The proposed law came up Sunday in the Ministerial Committee for Legislation, which meets every week to decide which bills will enjoy the Coalition's support and which will not – the former having a good chance of passing and the latter being likely to falter.
MK Regev said that she is not surprised by the failure of the bill to receve the ministers' support. "It turns out that government ministers, including Likud ministers, and the members of the Ministerial Committee for Legislation in particular, decided to vote against," she wrote, "except for two whom I salute: Uri Ariel and Uri Orbach, who voted for the law."
Ariel and Orbach are both from the Jewish Home party.
"It is too bad that Likud ministers forget, when discussing bills like this, what brought us to the Knesset," Regev added. "This important law that deals with two substantive core issues – the mtter of Jerusalem and the matter of the refugees – should have passed. Regrettably, it failed and this is a great shame, without a doubt."
The bill is based on a similar one that was prepared by Communications Minister Gilad Erdan in the previous Knesset, but was never presented to the plenum.
"The aim is to bring about a situation in which no diplomatic negotiations are carried out regarding extreme concessions that undermine the state of Israel's Jewish identity and widen the rift within Israeli society, unless the negotiations are approved by a majority of the members of the Knesset," Regev explained. "Such an act would be unacceptable, anti-democratic, and according to this bill, illegal as well – so that if negotiations are carried out without the Knesset's approval, they will not have any validity."
Justice Minister Tzipi Livni is in charge of a team carrying out secret negotiations with the Palestinian Authority under US sponsorship. Nationalist Israelis fear that the government will buckle uneer US pressure and make irresponsible concessions, then present them as a fait accompli. Regev's bill was meant to forestall such a possibility.