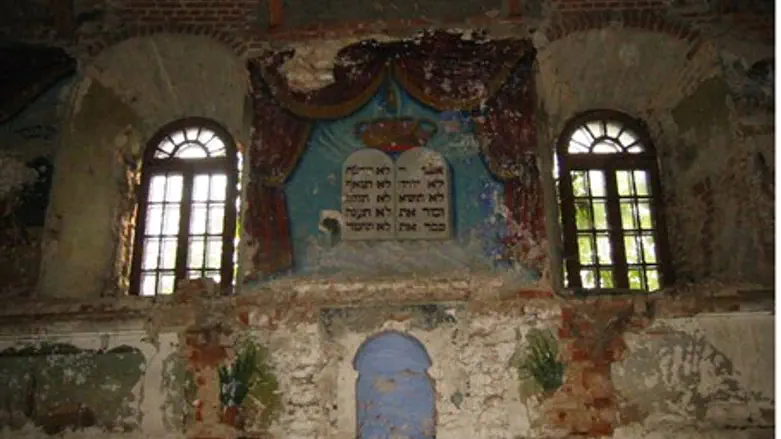 Inside the historic Krasnik Synagogue
FODZ
The European Union has awarded a grant to a Warsaw-based Jewish organization to restore an historic synagogue compound in the Polish town of Krasnik, but campaigners say the project may be cancelled if additional matching funds are not raised within the next two months.
The Foundation for the Preservation of Jewish Heritage in Poland, known by its Polish acronym FODZ, was awarded nearly $2 million by the EU, "but the grant was given on condition that we raise another $650,000 in matching funds," said FODZ president Monika Krawczyk, who was visiting Jerusalem this week.
The Foundation, which was established in 2002 by the the Union of Jewish Communities in Poland and the World Jewish Restitution Organization, aims to reclaim and manage communal properties that have been returned to the Jewish community under a Polish state law passed in 1997.
"The synagogue complex in Krasnik," Krawczyk explained, "consists of two buildings. The larger, baroque synagogue, with fragments of precious paintings still preserved inside, was erected in the 17th century, while the second, smaller synagogue was probably built in the first half of the 19th century."
Campaigners hope to restore the synagogue to its former glory
FODZ
In 2010, the first stage of renovations was carried out in order to save the synagogues from collapse. This included securing the foundations, reinforcing the walls, and installing a new roof.
"Currently, with only the first stage completed, the buildings still cannot be open to the public", Krawczyk said, pointing out that they are still "empty shells without electricity, heating or a water supply". This is what prompted FODZ to apply for the EU funding, which will enable them to complete the renovation and open a museum in the complex to preserve the memory of the Jews of Krasnik and the region.
But that grant is now in danger of being withdrawn, placing the entire project in jeopardy.
"If we do not raise the matching funds required by the EU grant, it will be cancelled, which means that the restoration will not be completed and in a couple of years the buildings will again fall into ruin," Krawczyk said.
Jews first moved to Krasnik, which is located about 50 kilometers outside of Lublin, in the 16th century. By the middle of the 19th century, Jews constituted more than half the town's population. Great Jewish leaders, such as Vladimir Zev Jabotinsky, the founder of the Revisionist Zionist movement, visited Krasnik and spoke in the two synagogues.
On the eve of World War II, Krasnik was home to over 5,000 Jews, most of whom were deported by the Germans to the Belzec death camp. Only about 350 Jews, or 7 percent of the town's Jewish population, survived the Holocaust.
In an emotional appeal to garner support for the Krasnik project, Krawczyk declared, "The synagogues in Krasnik are testimony to the great Jewish history in the region. This is our common global Jewish heritage and by saving them we are saving part of our identity."
"Furthermore," she said, "I think that by preserving memorials to the past we are also showing respect to the memory of those who were murdered in the Holocaust. And by restoring a ruin to its former glory, we restore hope of a better future for all."