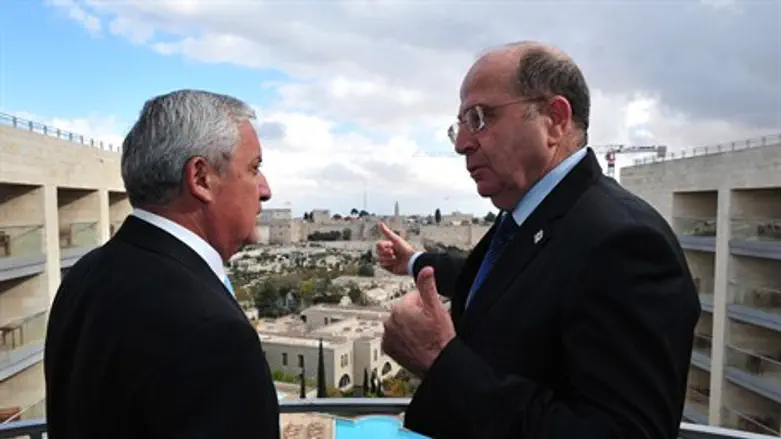 Moshe Yaalon speaks to Guatemalan President O
Ariel Hermony
Iran is using diplomatic pouches to smuggle weapons into and out of the country, Defense Minister Moshe Yaalon said Monday. "The Iranians are taking advantage of diplomatic mail in order to transfer these items," Yaalon told Guatemalan President Otto Perez Molina, who is visiting Israel. "They are taking advantage of the drug smuggling routes from South America into the United States in order to move weapons there," he said.
Iran, said Yaalon, was pulling out all stops in order to export its Shi'ite Islamic revolution to the West, preparing communities of Shi'ite Muslims for the day they must help Iran achieve its goals. 
"They are building a terror infrastructure in South America to attack Jews and Israeli interests," he said, "but they are also using these bases that they have built in places like Cuba, Bolivia, Nicaragua and Venezuela to act against the United States."
It was via this network, he said, that the Iranians were able to smuggle weapons in the U.S. to attempt an attack on the Saudi embassy in Washington, which was foiled only at the last minute.
"All this shows the Islamic Republic's ability and plans – their desire for world hegemony, using terror to achieve it," Yaalon said. "Their terror network worldwide shows their ambition. According to their ideology, they are required to export the Shi'ite revolution. They are willing to invest and sacrifice for this. They have been involved in every dispute here in the Middle East, and support anyone who fights against Israel or the West."
Israel, he told Molina, was carefully watching Iran's latest moves in developing its nuclear capacity. "We have been damaged by their activities in Argentina, Bulgaria, and India," Yaalon said, listing the locations of several attacks against Israelis and Jews in recent years. "All Iranian embassies are used as terror bases," he added.
The presence of Iranian-linked terrorist networks in Southern and Central America is a longstanding issue, most notably in the ongoing controversy over the involvement of Iran in the deadly bombing of the Argentine Jewish Charities Federation in 1994.
Lebanon's Hezbollah is known to have a particularly strong presence in the region, and is said to be heavily involved in the local drug trade as part of the group's fundraising efforts.
In September, the son of the president of Suriname was arrested on suspicion of providing material support to the Shia terrorist group.
Dino Bouterse was filmed telling undercover agents posing as Hezbollah operatives that he was willing to help them set up a base in the Central American country, as well as to provide them with passports and advanced weaponry, including surface-to-air missiles, as part of preparations to attack the US and Holland.