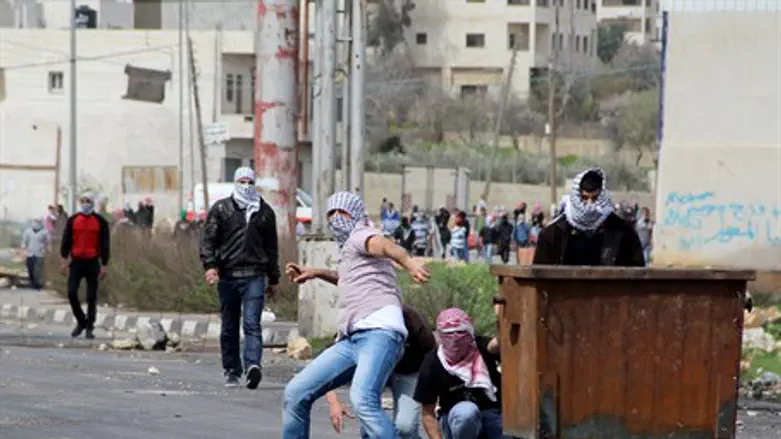 Arab rioters throwing rocks
Flash 90
10 teenagers from the Arab neighborhood of Issawiya in Jerusalem were arrested Sunday on charges of throwing rocks and Molotov Cocktails at IDF soldiers and students in the nearby Mount Scopus neighborhood. 
The teenagers have also been attacking police vehicles in the region. They were apprehended by Jerusalem Police Forces, as well as a special Border Patrol Unit working together to bring the neighborhood's security back to reasonable levels. 
Five of the accused are expected to be brought to the Jerusalem Magistrate Court over the next hour for proceedings extending their detention, and to be tried for arson, terrorist activity, and risking the lives of military personnel; the other five will be brought to court next week. 
At least two of the teenagers are linked to the "Democratic Front," a Palestinian Arab terror cell responsible for nationalist attacks on IDF soldiers and Israeli civilians. 
Mount Scopus is the site of the main campus of the Hebrew University of Jerusalem - and has reportedly been deemed unsafe for IDF soldiers. While students have continued to live and study in the area, many have reported that the neighborhood has felt unsafe - even dangerous.