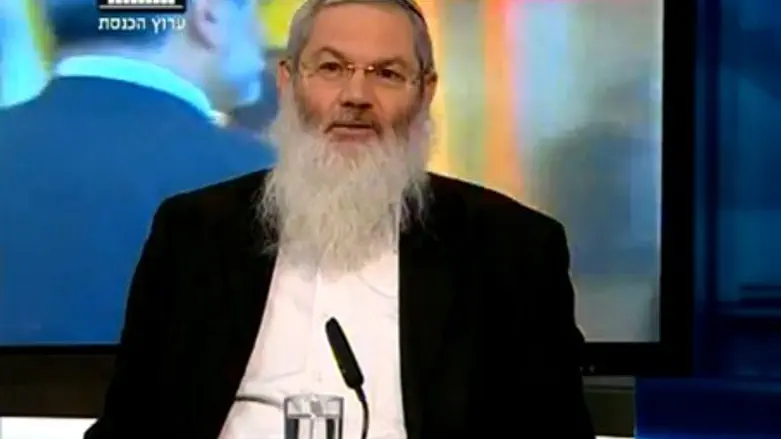 Rabbi Eli Ben Dahan
Knesset Channel
Posters denouncing Deputy Minister of Religious Affairs Rabbi Eli Ben-Dahan (Bayit Yehudi/Jewish Home) have cropped up overnight on billboards all over Israel. 
A message to Arutz Sheva claims that the posters were put up by "disgruntled hesder yeshiva students and other dissenters who are upset with changes to the status quo in religious matters, which are being backed by Bayit Yehudi, and particularly by Rabbi Eli Ben-Dahan." 
Hesder yeshivas are Religious-Zionist institutions which combine intensive Torah study with army service.
The also cite objections made to Ben-Dahan keeping his post by members of his original Tekuma party, which merged with Bayit Yehudi in this year's elections, which were headed by prominent leader Rabbi Dov Lior, Rabbi Yaakov Ariel, and other Religious-Zionist figures. 
One of the initiators of the ad campaign stated that "unfortunately, some members of Bayit Yehudi are closer to [Finance Minister and Yesh Atid party head] Yair Lapid instead of the party's rabbis - so when other members of Tekuma willingly follow them are at least do no object to the new directives, we are obligated to protest." 
Bayit Yehudi responded, "After the Deputy Minister has already suffered from physical violence against him, gangs of dissenters are still embarking on a barbaric intimidation campaign against a dedicated and loyal public figure. We condemn the ongoing incitement against him, call on the hareidi parties to end the incitement, and commend Ben-Dahan on his brave work to bring Israel together [. . .] he now has extra motivation to be vigilant in strengthening Israel and its traditions." 
Other representatives added that "hareidi incitement against us has crossed the lines of halacha (Jewish Law) recently, and we saw more incidents like this crop up yesterday near the districts of Tel Aviv." 
Ben-Dahan was both physically and verbally attacked last month by hareidi mourners at the funeral of respected Rabbi Ovadiah Yosef (tz"l), an incident which the hareidi Knesset representatives allegedly ignored.