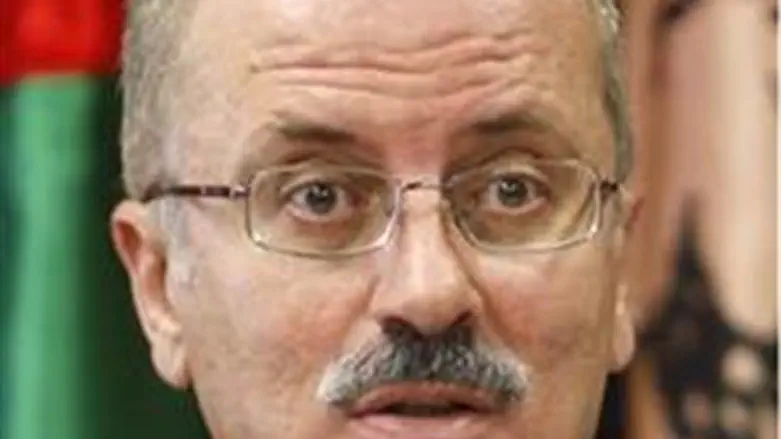 Rami Hamdallah
Reuters
Palestinian Authority (PA) Chairman Mahmoud Abbas will meet on Sunday with prime minister Rami Hamdallah in a new bid to defuse a political crisis that prompted the premier to submit his resignation, a senior PA official told AFP on Saturday.
The 11:00 a.m. meeting at Abbas's offices in Ramallah will be their third in 48 hours, noted the news agency.
They met for 90 minutes on Saturday evening, after which no statement was issued.
Hamdallah, who only took office two weeks ago, presented his resignation on Thursday, then withdrew it after a meeting with Abbas on Friday.
The official told AFP on Saturday night that the two men will continue discussions on the division of responsibilities within Hamdallah's government, which lies at the core of the current crises.
He is demanding "clear and defined powers as prime minister and for his deputies, based on the law, so his authority is not encroached on," an official said after the Friday meeting.
Source close to Hamdallah say he was incensed by Abbas's decision to appoint two deputy premiers -- Mohammed Mustafa, who heads the Palestine Investment Fund and was given the role of economic adviser to Abbas, and Ziad Abu Amr.
Hamdallah, an independent considered close to Abbas's ruling Fatah faction who was head of Al-Najah University in Shechem and secretary general of the Central Election Commission, quickly pledged after his nomination to follow a similar path to his predecessor, Salam Fayyad, and said he would leave the government line-up largely unchanged.
Fayyad resigned in mid-April after months of difficult relations with Abbas which hit a crisis over the resignation of finance minister Nabil Qassis, which the premier accepted but Abbas did not.
Fayyad was considered to be a "moderate" and was hailed as a "strong partner" by the U.S. and Canada, yet he has called to free all PA resident Arabs imprisoned in Israel, despite the fact that many are serving time for terror-related offenses, including murder and attempted murder; some were imprisoned for other violent crimes including assault and rape.
He has also accused Israel of causing the death of 200 prisoners through medical neglect, torture or murder. In the past, Fayyad also blamed Israel for the PA's financial crisis, ignoring the fact that the PA pays huge monthly salaries to terrorists imprisoned in Israeli jails. Israel recently discovered that it was none other than Fayyad himself who ordered several years ago that these salaries be tripled.