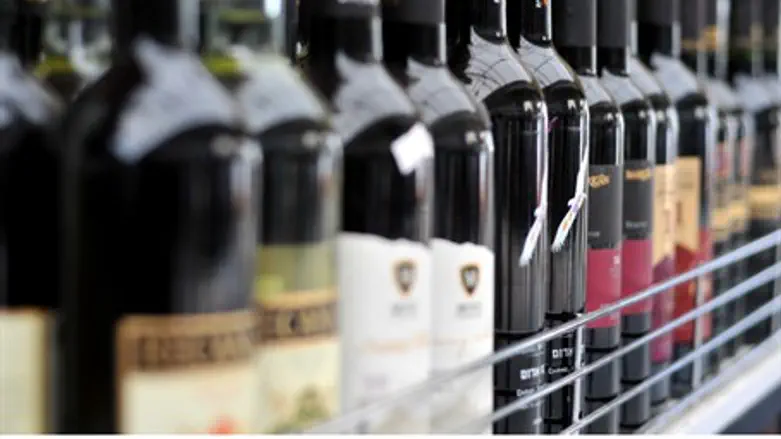 Wine (illustrative)
Israel news photo: Flash 90
Israeli wineries in the Golan region and in Samaria (Shomron) are among the winners of the 2013 DECANTER competition for wines. A record 14,362 wines from 52 countries were entered in the event.
Two Israeli wineries won coveted Regional Trophies. The Adir Winery in the Galilee and the Yarden Golan Heights Winery in the Golan both took a Regional prize.
Another winery that did well for itself was the Har Bracha boutique winery in Samaria (Shomron). The relatively young winery came away with a silver medal for its 2011 Petite Sirah and a bronze medal for its 2009 Highlander Cabernet Sauvignon Gold.
In recent years wine production has become increasingly popular in Judea and Samaria. Farmers in the region have discovered that its altitude, climate and soil are all well suited for producing excellent vineyards.
There are now seven wineries in Samaria: the Tura winery in Rachelim, the Har Bracha winery, the Porat Yosef winery in Yitzhar, the Gat Shomron winery in Karnei Shomron, the Givat Arnon boutique winery in Itamar, a winery on Tekuma hill in Yitzhar, and a winery in Shaarei Tikva that focuses on export.
The Har Bracha winery was established ten years ago by Shira and Nir Lavie. The couple created their own winery after discovering the high demand among wineries for the grapes they were producing. The winery now produces roughly 30,000 bottles a year.
"We always knew we had something good, but a win like this, in such an important international competition, lifts our spirits and encourages us to continue and to get the best from our land in Samaria," Nir Lavie said.
Samaria Regional Council head Gershon Mesika sent the Lavies his congratulations. "Your victory makes us proud," he said.