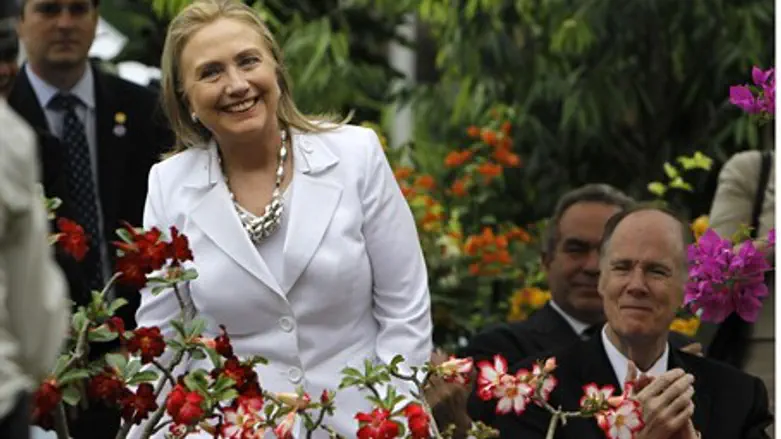 U.S. Secretary of State Hillary Clinton
Reuters
Secretary of State Hillary Clinton on Thursday called her last days at the State Department "bittersweet" as she prepared to relinquish her post to Sen. John Kerry (D-Mass.), who had been approved by the Senate in a near-unanimous vote on Tuesday. 
"Tomorrow is my last day as Secretary of State and though it is hard to predict what any day in this job will bring, I know that tomorrow my heart will be very full," Clinton said on Thursday.

"Serving with the men and women of the State Department and USAID has been a singular honor and Sec. Kerry will find there is no more extraordinary group of people working anywhere in the world," she said. "So these last days have been bittersweet for me, but this opportunity that I have here before you gives me some time to reflect on the distance that we've traveled and take stock on what was done and what is left to do." 

Clinton refuted claims that the United States is in decline and called for continued American leadership around the world. 
"When I say we are truly the indispensable nation it's not meant as a boast or an empty slogan. It's a recognition of our role and our responsibilities. That's why all the declinists are dead wrong. It's why the United States must and will continue to lead in this century, even as we lead in new ways," Clinton said. 
She also addressed the Sept. 11 attack in Benghazi, Libya, which resulted in the death of four Americans, including U.S. ambassador Christopher Stevens.
Clinton testified before the Senate Foreign Relations Committee last week, providing her much anticipated testimony to the attack that is widely believed to have left an indelible mark on her tenure. 
"And we know, leadership has its costs. We know it comes with risks and can require great sacrifice. We've seen that painfully again in recent months, but leadership is also an honor. One that Chris Stevens and his colleagues in Benghazi embodied and we must always strive to be worthy of that honor," Clinton said.