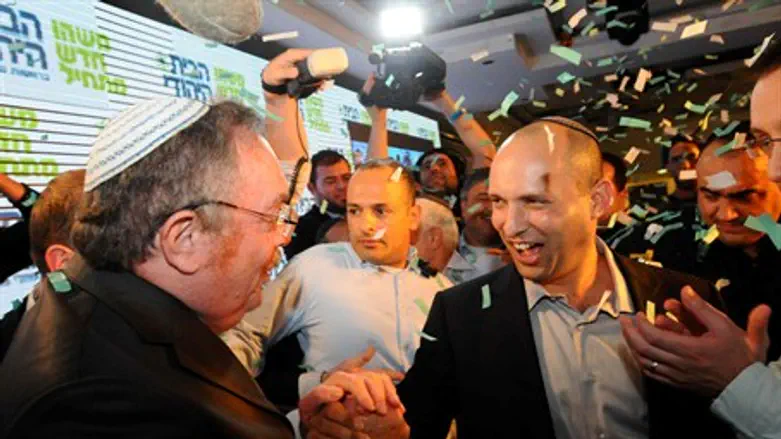 Naftali Bennett of Jewish Home
Flash90
A new survey reveals that most Likud-Beytenu voters want to see Naftali Bennett as a senior partner in Netanyahu's government.
A survey by the Maagar Institute conducted for the Hebrew weekly newspaper 'BeSheva' found that a significant majority of Likud-Beytenu voters, 73%, prefer that Naftali Bennett join the new coalition compared to 27% who would like to see Tzipi Livni join.
A majority in fact - 59% - are opposed to Livni joining the next coalition.
A vast majority of voters - 74% - want to see a coalition that includes Jewish Home, Yesh Atid and the ultra-orthodox parties Shas and United Torah Judaism.
The telephone survey polled 434 random respondents constituting a representative sample of Likud-Beytenu voters. The margin of error was 4.5%.
Netanyahu announced immediately after sample results had been published Tuesday night that he would like to "form as broad a government as possible," yet many question whether his coalition will include the Jewish Home party which has been the main target of many negative ad campaigns launched by Likud-Beytenu.
Party insiders also point out the tense relationship between Bennett and Netanyahu, who was Netanyahu's Chief of Staff from 2006-2008 but quit due to an alleged spat between him and Netanyahu's wife Sara.
Sources believe that Sara will try to exclude Bennett from the coalition, but it is likely that the influence Bennett's party has garnered will force Netanyahu to include Bennett in his government.
In a speech on Wednesday, Netanyahu said the government that will be established will bring about three main changes - equality of burden - a euphemism for IDF and national service, affordable housing, and reforms in the way the government operates - many of the same platforms on which  Yesh Atid, the current second largest party with 19 seats, ran. Bayit Yehudi has much the same aspirations among its objectives.
"I've just come from a joint meeting with my partner Avigdor Lieberman and in addition to the security and political responsibilities we will focus on establishing a new coalition with these three principles in mind, and we will establish a government which will bring about these changes for all citizens of Israel," Netanyahu said.