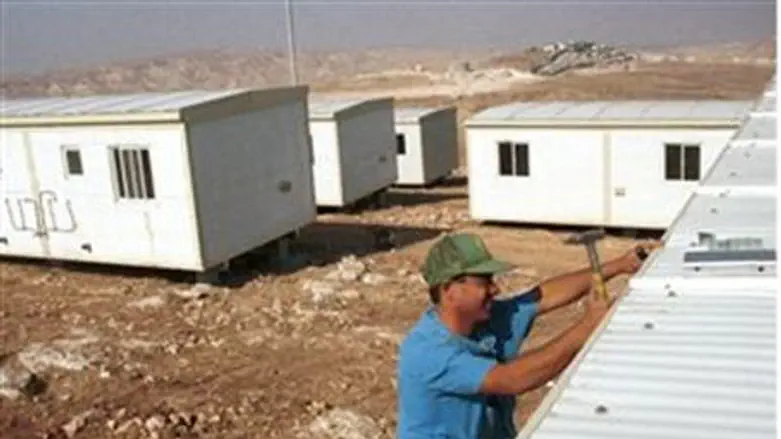 Caravans, soon to be a city?
Israel news photo: Flash 90
After many years, a new Jewish town is being planned in the Gush Etzion bloc in the Judea region. To start, the Defense Ministry has approved plans to build 523 housing units on the site that will someday be Gevaot.
"This is a huge achievement," David Perel, head of the Gush Etzion Regional Council, told the AFP news agency.
In the year 2,000, the regional council had presented plans for a city of at least 6,000 homes. But until now, the government had never granted its approval. At present there are a handful of caravans at the site, which functions as an outpost.
In Samaria (Shomron), a major new Palestinian Authority city, Rawabi is currently under construction as well and planned to be home to at least 25,000 residents. The first planned city in the PA, Rawabi is conveniently located close to major high-speed Israeli highways. A corporation from the country of Qatar is funding the project along with multimillionaire Bashar al-Masri, sources said. A road is being built to connect the PA city to the Trans-Binyamin Highway, Highway 465, as well.
The far-left Peace Now organization warned that the government's decision signals that Israel has given up hope for a two-state solution with the Palestinian Authority.
"This is not just another settlement – 6,000 units could house about 25,000 people. Maybe it's not large as cities go, but in terms of settlements, it's huge," spokesperson Hagit Ofran told AFP. However, no approval was granted for 6,000 housing units; only 523 homes were permitted. Nevertheless, Ofran contended the move was one that would end any possibility of peace.
"This sends the message that Israel is not considering the two-state solution," she added. "It means it will be much harder to divide the land (in any final peace deal) with another city there."
The Gush Etzion bloc has long been considered a major Jewish population area that was not likely to be handed over to the PA in any final status deal. There are a number of similar blocs located in other areas of Judea and Samaria as well. Prior negotiations between Israel and the PA had centered on using land swaps as an option in order to avoid the impossible task of expelling nearly half a million Jews from their homes.
This week Israel's government approved steps in building projects for thousands of new homes in Jerusalem, Judea and Samaria.
The move, which infuriated leaders in the Palestinian Authority and the international community, followed the de facto recognition by the United Nations General Assembly of the PA as an independent sovereign state.
The U.N., which voted to grant nonmember observer state status to the PLO, representing the PA, thus enabled the entity to circumvent its internationally-recognized mandate to negotiate a final status agreement with Israel.