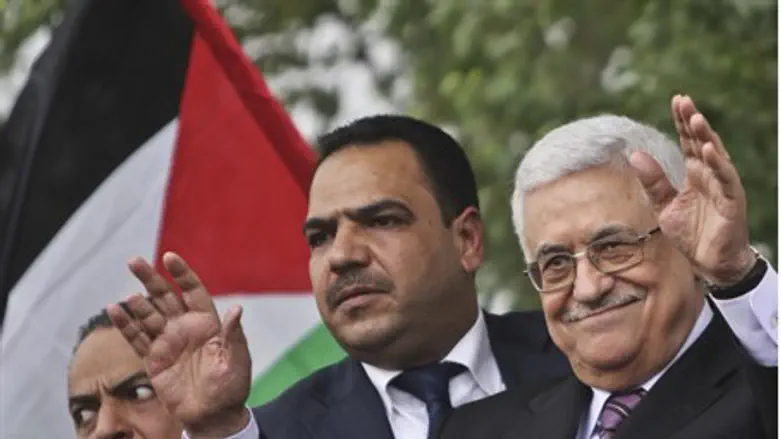 Mahmoud Abbas
Flash 90
The Palestinian Authority's latest bid for UN recognition as a state was led by PA Chairman Mahmoud Abbas personally, a senior diplomatic source told Arutz Sheva. Abbas is leading the initiative in a desperate attempt to cover up his failures, the source said.

"This initiative on the international scene comes to make up for his failure internally. Abu Mazan [Abbas] did not manage to deal with any of the challenges facing the Palestinian Authority, and the Palestinians understand that Abu Mazen did not supply the goods," he said.

"The [PA] apparatus is corrupt and useless, and [Abbas] is taking this step because he feels himself falling," he added.

Abbas' behavior shows he knows his image is failing, he continued. "How many times has he visited Hevron or Kalkilya, and how many times has he visited London or Paris? It's clear he's been in Europe much more."

"The protests that we saw in Ramallah last month were not against the 'Zionists,' but against Abu Mazen," he added.

Abbas does not deserve credit for the relative calm in Judea and Samaria (Shomron), the source said. The IDF, not the PA forces, is keeping the peace, he said, and Salam Fayyad, not Abbas, is responsible for coordinating between the two.

Israel plans to take steps in response to Abbas' UN appeal, he said, including calling in some of the PA's debts. "The PA debt to the Electric Company alone is around 700 million shekels," he noted.