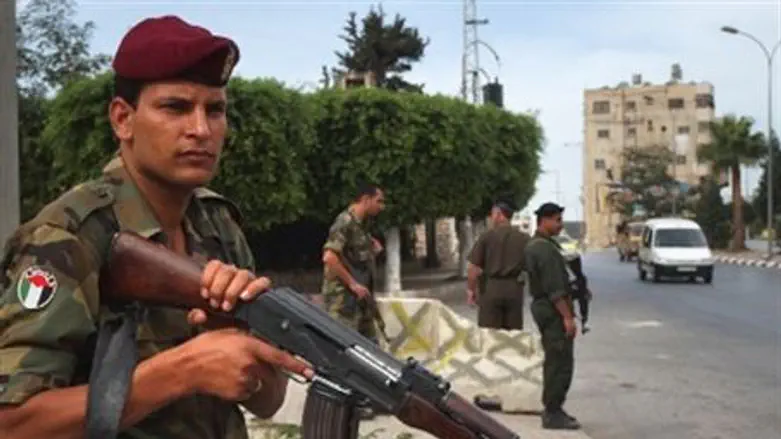 PA police officer
Israel news photo: Flash 90
Palestinian Authority officials are quietly being given more freedom to act in Jerusalem during the Muslim holy month of Ramadan, which began Thursday. During the holiday, PA police will patrol in the Kalandia area, within the municipal borders of Jerusalem.

PA officers will be stationed along the road from the Kalandia neighborhood to the Israeli checkpoint of the same name. "We'll guide traffic and prevent disruptions of the peace," a police commander said.

On Thursday night, a group of senior PA politicians visited the Al-Aqsa Mosque on the Temple Mount to supervise preparations for the many thousands of PA Muslims expected to visit the site in the upcoming weeks.

According to the PA news agency WAFA, the officials reported that ambulances and a mobile clinic will be at the site 24 hours a day during Ramadan.

The increasing PA involvement came as a preacher at the Al-Aqsa Mosque declared that Jerusalem is rightfully Muslim and will always be Muslim. The PA claims much of Jerusalem, including Kalandia, the Old City and the Temple Mount, as part of the capital city of a future Arab state.

During Ramadan, Israel will ease protocol for Arabs living under PA rule who seek to enter Israel to visit the Al-Aqsa Mosque. Women and men age 40 and over who are married with children will be able to attend prayers in Jerusalem without a permit.

Women and men ages 35-40 will get permits to visit the Temple Mount. Access will be restricted for young adults due to terrorism fears.