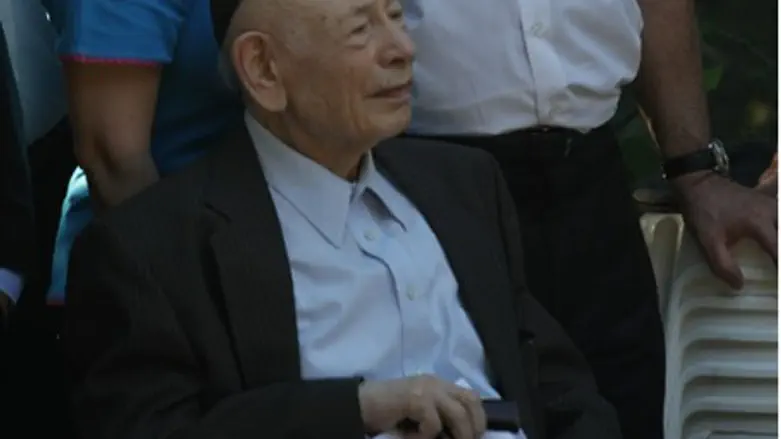 Prof. Benzion Netanyahu
Flash 90
Professor Benzion Netanyahu, father of Prime Minister Binyamin Netanyahu who died last week at the age of 102, was known for his right-wing views and for his Zionism.
His values are reflected in the following exclusive and rare video, which was forwarded to Arutz Sheva by the Keep Jerusalem - Im Eshkachech organization.
Keep Jerusalem - Im Eshkachech works toward keeping Jerusalem united under Israeli sovereignty. The organization believes that through re-educating the public with accurate up to date facts, Jerusalem, the city synonymous with the identity of the Jewish people, can regain the public's support and remain unified under Israeli sovereignty.
The video sent by the organization to Arutz Sheva is possibly the last video interview done with Prof. Netanyahu. The interview was conducted at the end of 2010 when Prof. Netanyahu agreed to join Keep Jerusalem's advisory board. Chaim Silberstein, Founder and President of Keep Jerusalem, interviewed him and asked him for his thoughts on keeping Jerusalem united.
Prof. Netanyahu says in the video that giving up eastern Jerusalem to the Arabs "weakens the people of Israel in the Land of Israel."
He adds, "It weakens Israel in that it doesn't control the entire area. It only controls half of the area, and the other half of the area goes to the Arabs. That encourages them to fight for the second half."
When asked by Silberstein what solution he would suggest on the subject of Jerusalem, Netanyahu says that "the solution is to enlist the Jewish people to fight for the wholeness of Jewish Jerusalem."
Silberstein then asks, "Fight in what way? Physically fight? Using war, using military means?" Netanyahu responds, "If that's what's needed, then also through war."
Netanyahu also says that it is a mission to educate people about eastern Jerusalem, and says that Keep Jerusalem should not "go to people who have already been there a hundred times. Go to people who haven't been there even once."