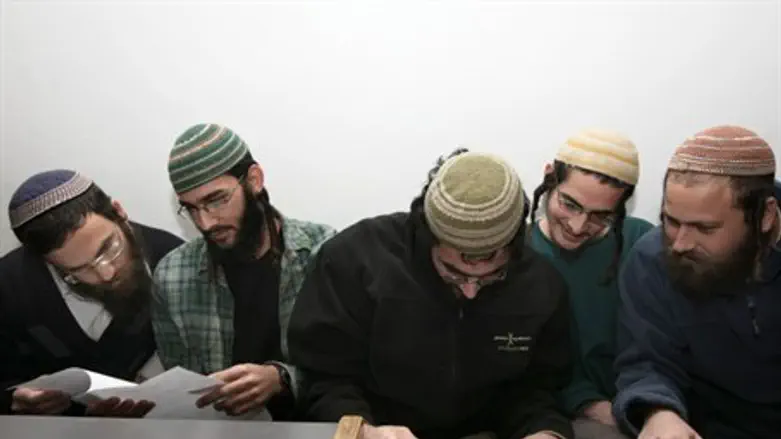 The five nationalists in court
Israel news photo: Flash 90
The father of Rabbi Elad Meir, one of five people who were recently arrested for gathering information on military movements and infiltrating an army base in Samaria, said on Tuesday that the five have been harassed and abused by the Jerusalem District Attorney's Office and by Deputy State Prosecutor Shai Nitzan since they were released to house arrest.
Speaking to Arutz Sheva, the father said that his son, a father of eight children, was forced to leave his family who resides in Binyamin and move in with relatives who live in Nehalim, a religious moshav in central Israel.
The father also said that the State Attorney's Office forbade his son to talk on the phone with his family and only allows him to speak with them face to face. This, he said, requires his family to make the journey from Binyamin to Nehalim anytime they want to see his son.
He added that the prosecution canceled a meeting that was supposed to take place on Wednesday between the five suspects and their attorneys.
Earlier this month, the five were accused of spying, simply because they warned Jews residing in communities in Judea and Samaria of impending demolitions of homes. They were being accused under Section 113 of the Israeli Penal Code, according to which a person who obtained, collected, prepared, made or held secret knowledge is charged with espionage. The maximum penalty for such offenses is seven years in prison.
However, the indictments later filed against the five omitted the spy charges. It was later speculated that a relatively large protest outside a police detention facility at the Russian Compound in Jerusalem may have influenced the Prosecution's decision to omit espionage charges from the indictments.
The indictments claim the five prevented the evacuation and demolition of outposts by establishing a war room. They are also being charged with having put together "detailed intelligence reports" and using terms usually identified with intelligence operations as part of their work.
Rabbi Meir's father said the State is taking every step possible to give the five a hard time.
"The prosecution's policy is a direct order of the Prime Minister, who demanded that these five men be severely dealt with," he said. "Nitzan used the green light given by the Prime Minister and isn't stopping."