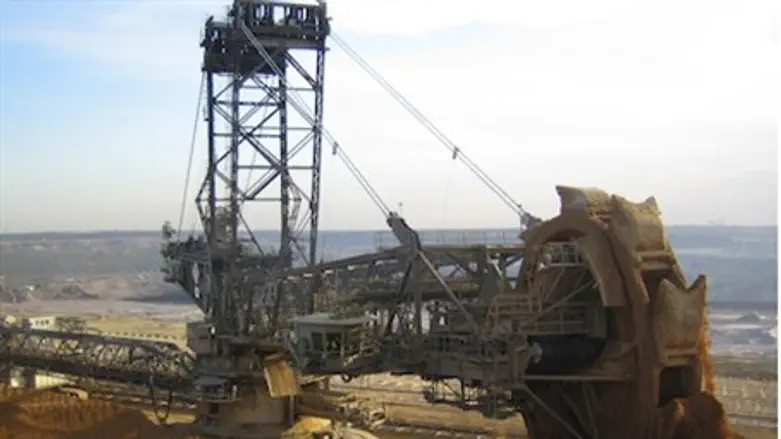 Mining operation (illustrative)
Morguefile
The Water and Energy Ministry (formerly the National Infrastructures Ministry) is set to grant a license to Gulliver Energy to search for uranium in the Negev. This is the first time uranium mining will be taking place in Israel. The chairman of Gulliver Energy (formerly known as Urieli) is former Mossad chief Meir Dagan.
The uranium search will center on an area in the southern Negev, where oil exploration is being conducted by the Zerach exploration company. That exploration is taking place near the Dead Sea, at the Maya exploration site, south of Tzuk Tamrur, another exploration site near Arad. The license to be granted to Gulliver will allow the company to conduct tests and set up several drilling projects in the area, southwards toward the town of Sedom. The Ministry said that Gulliver had informed it that seismic and other tests indicated that there was a "strong likelihood" that uranium and other materials would be found at the site.
According to the Ministry, Gulliver asked for the license after several test wells in the area – where Zerach and several other companies are searching for oil – indicated that there was a large amount of radioactive material there, at levels relatively close to the surface. Numerous rocks with "high radioactive qualities," the Ministry said, have been found in the test wells, indicating that there was a good possibility of numerous elements – including uranium – below ground. The Ministry said that Gulliver intended to bring in experts from abroad to help with the search.
The Ministry added that a special permit was needed because of the proximity of the search site to several nature preserves, and the sensitivity of the matter.
Gulliver last year signed an agreement with Zerach to acquire from the company all data on uranium and other materials discovered in the area. In return, Zerach will receive 12.5% of proceeds from the sale of uranium by Gulliver, if such sales ever take place.