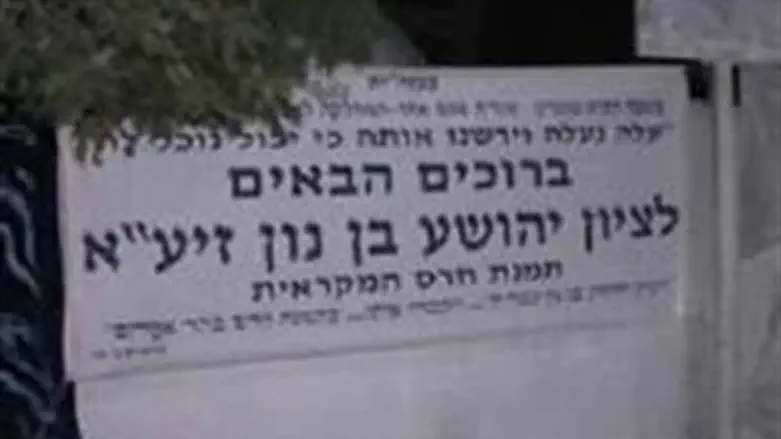 Sign outside Joshua's Tomb
Hillel Meir
A group of Jews who sought to pray at the tomb of Joshua (Kever Yehoshua) on Thursday night became the victims of an attempted terrorist killing when local Palestinian Authority Arabs noticed their presence. A group of PA men pelted them with heavy stones, leaving one worshiper in moderate condition.

The worshipers had hoped to enter the tomb unnoticed.

IDF troops searched the area of the tomb for the attackers, but have not yet arrested suspects. Military sources noted that the Jews who came under attack had entered the tomb, located near the city of Ariel in Samaria "without coordinating with security forces, in a manner that endangered their lives."
A similar incident took place near the biblical city of Shechem, where 18 Jews attempted to enter Joseph's Tomb on Thursday for midnight prayers without coordinating with authorities. That group, too, was noticed and attacked by PA Arabs, but managed to escape without injury.

The issue of access to tombs in Samaria has long caused arguments between IDF commanders and some local Jews. The former say Jews must coordinate their prayers at Samaria holy sites with the military, and that to do otherwise is dangerous and irresponsible.

The latter argue that the IDF provides access to holy sites only on rare occasions, and only for small groups – leaving clandestine, unauthorized trips the only chance some have to pray freely at the graves of Israel's fallen forefathers.