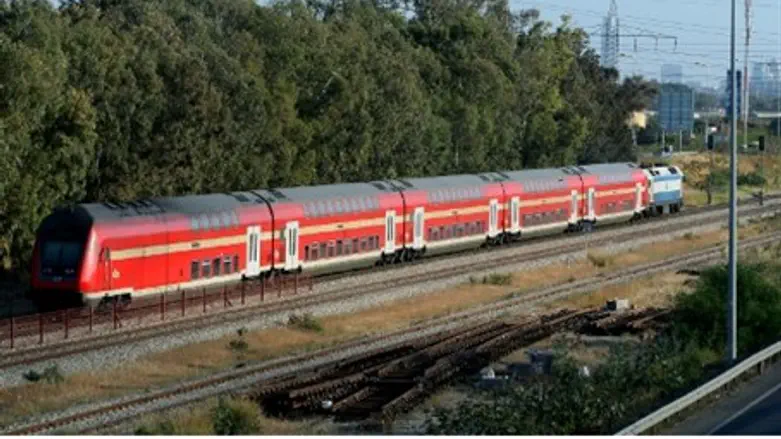 Train in Israel
Arutz Sheva: Flash 90
The Transportation Ministry has mapped plans to revolutionize the country with new train tracks in the Galilee and Tel Aviv suburbs, moves that also may help solve housing problems.
Transportation Minister Israel Katz said at a press conference last week that extending Israel's train system further outside metropolitan Tel Aviv will allow people to work in the urban center while being able to commute back and forth in reasonable time.
The government is hoping that new train lines will do for the country what the north-south high-speed Highway 6 (Kvish 6) accomplished – drawing business to new industrial parks and bringing the country closer to together in travel time.
While work is under way to for rail connections between Be'er Sheva, the Negev's urban center, Gaza Belt communities and the port city of Ashkelon, Katz envisions a rail system that will reach Beit She'an, in the heart of the Jordan Valley, and communities in the western Galilee.
He also sees quick train service as a solution to the problem of the high cost of housing in Tel Aviv, allowing students and workers to live farther away and arrive in the same time, or even less, than it takes by car or bus.
Prime Minister Binyamin Netanyahu on Tuesday surveyed the new rail route to Bnei Darom, on the southern edge of metropolitan Tel Aviv, and urged that work on extending the train system be carried out as quickly as possible.
Katz said that a new train line next month will bring service to Holon, adjacent to Tel Aviv and that trains will reach other suburban communities by early next year.
Rail connections to Afula in the Jezreel Valley, a 45-minute drive from the central Mediterranean Coast, and Beit She'an, are expected to be completed by 2016, along with a northern  line from Akko (Acre), north of Haifa, to the Western Galilee city of Karmiel.
The route to Karmiel and the rail system being built between Tel Aviv and Jerusalem will enable the use of high-speed electric trains.