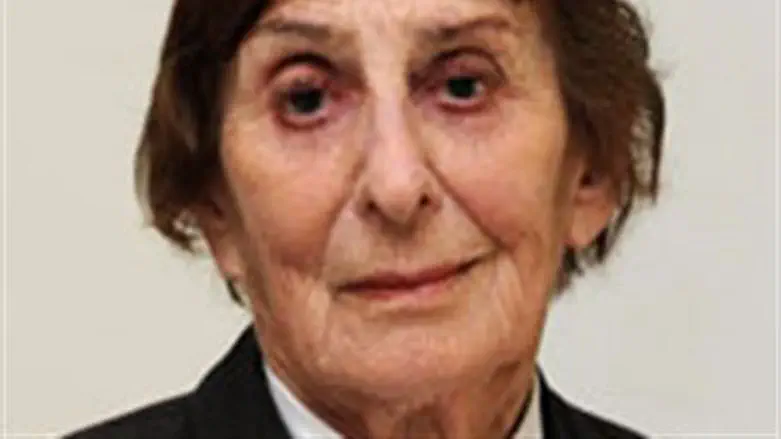 Chava Pressburger
Yad Vashem
Chava Pressburger  is one of the six torchlighters who participated in the official openeing ceremony of this year's Holocaust Martyrs' and Heroes' Remembrance Day. Yad Vashem, The Holocaust Martyrs' and Heroes' Remembrance Authority presents her story.
Chava was born in 1930 in Prague, Czechoslovakia, to Otto and Marie Ginz, who met through the Esperanto movement. Chava and her older brother, Petr, grew up in a liberal, Zionist Jewish home.
When Bohemia and Moravia were annexed by Germany in March 1939, Chava and Petr were defined as first degree mixed race individuals (Marie was not born Jewish), and all laws and limitations pertaining to the Jews also affected them. Otto was forced out of his managerial job, and took menial work at Jewish community institutions.
In 1942, Petr was deported to the ghetto in Terezin; Chava followed in May 1944. She was placed in an orphanage for girls and put to work harvesting vegetables and sorting scrap metal. She met up with Petr, who taught her English, read to her, and checked up on her studies. A multi-talented youth with a rich imagination, Petr continued to draw and paint. He also wrote and illustrated short stories and articles, some of them inspired by his favorite author, Jules Verne, and edited the underground ghetto youth newspaper, Vedem. In September 1944, Petr was deported to Auschwitz and murdered. Chava managed to get Petr a slice of bread before the train departed.
During her time at Terezin, Chava kept a journal, in which she described her life in the ghetto. Most of the journal was later published in Salvaged Pages (Yale University Press, 2002), an anthology of young writers during the Holocaust.
In February 1945, Otto arrived at Terezin. In May 1945, the Red Army liberated the ghetto, and Chava and her father returned to their home in Prague. They and Marie waited in vain for Petr's return. After liberation, a young Terezin survivor who had hidden Petr's artworks gave them to Otto.
Chava studied art in Prague, and in 1948 moved first to Vienna and then to Paris with Abraham Pressburger, later her husband, whom she had met in the Hashomer Hatzair youth movement. In September 1949, the couple immigrated to Israel, where they eventually settled in Be'ersheva. There Chava continued to create and teach art: in 1993, she received the prestigious Sussman Prize for her Holocaustrelated artwork.
With Yad Vashem's help, Petr's journal was published in 13 languages. The late Israeli astronaut Ilan Ramon took a facsimile of one of Petr Ginz's pencil drawings, "Moon Landscape," with him into space; it depicts Earth from the perspective of someone standing on the moon, as imagined by Petr in the ghetto.
Chava and Abraham have two children and three grandchildren.