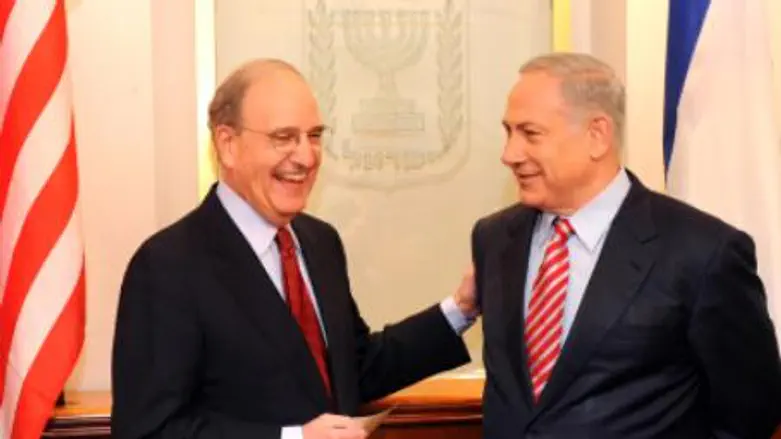 Mitchell and Netanyahu
Israel news photo: Flash 90
Prime Minister Binyamin Netanyahu welcomed the arrival of U.S. Middle East envoy George Mitchell in Israel Monday. He stated that the United States "has finally realized" that talks with the Palestinian Authority must tackle "core issues" instead of tactics, such as the ban on building homes for Jews in areas demanded by the PA.
However, in a world of modern diplomacy where words frequently mean the opposite of what is said, the Obama administration may be setting up Israel for a trap to accept Arab demands for the PA to take over all of the land restored to the Jewish state in the Six Day War in 1967. The Obama administration also has indicated it accepts, at least in part, Arab demands that millions of foreign Arabs be allowed to immigrate to Israel.
"Core issues" is a term that refers to the status of Jerusalem, final borders of a proposed PA state, water rights and the "right of return": the status of several million foreign Arabs whom the Arab world wants to relocate to Israel, thereby eliminating the Jewish majority.
U.S. Secretary of State Hillary Clinton last week proposed reverting to the concept of discussing core issues, after a failure of nearly two years to use a building freeze on Jewish homes as a way to bring Abbas to direct talks with Israel.
Mitchell expressed his usual optimistic outlook that he will try to fulfill Clinton's approach of helping Israel and the PA "bridge" their gaps. Clinton's specific comment that the United States will not impose an agreement, as with similar statements in the past, may hint the very opposite.
Picking up on Clinton's offer to "bridge" gaps, PA Prime Minister Salam Fayyad told ABC News Sunday, "It may be unavoidable, actually, for the United States, acting as a broker at some point, to come in with bridging proposals so we make this happen."
U.S. President Barack Obama has said more than once that he cannot make peace for the PA and Israel, but his administration in effect has forced Israel to back down on major issues while Abbas has threatened to leave the United States out in the cold if it does not produce an agreement on the PA's terms.
Clinton, in her speech to the Saban Forum in Washington last Friday, implied that Israel will have to cross its former red lines, which have been receding for several years in the diplomatic "war of attrition" staged by the Arab world.
She placed the Netanyahu government at a severe disadvantage by stating that the final borders of a PA state must end the "occupation" as well as guarantee Israel's security. The borders are clear to the PA and Washington – a return to what were termed the "Auschwitz borders" by the late Abba Eban, Israel's former ambassador to the United Nations who was characterized as anything but right wing.
Clinton effectively denied any Israeli right to a Jewish presence in Judea and Samaria and "united Jerusalem," stating, "We do not accept the legitimacy of continued settlement activity. We believe their continued expansion is corrosive not only to peace efforts and the two-state solution, but to Israel's future itself," she said.
However, "security" is not as clearly defined as borders, and the Palestinian Authority has categorically rejected the presence of Israeli troops in Judea and Samaria. Clinton did not indicate what"security" for Israel means.
Concerning Jerusalem, Clinton also continued her reversal of her 2008 election campaign platform that Jerusalem is Israel's united and eternal capital. "There surely will be no peace" without agreement on Jerusalem, the thorniest of all the final status issues because of its religious significance to Muslims, Christians and Jews, she said. "The parties should mutually agree on an outcome that realizes the aspirations of both parties for Jerusalem and safeguards its status for people around the world."
Clinton also did not flinch from the issue of "refugees," the international term for several million foreign Arabs and their descendants who have been denied citizenship by Arab countries while the United Nations takes "temporary" responsibility for them until they immigrate to Israel.
"There must be a just and permanent solution that meets the needs of both sides," said Clinton, whose diplomatic omission of Israel's objections to their immigration opens the door for further demands by the Arab world.
In a timely opinion article in the London Guardian last Friday, senior PA negotiator Saed Erekat wrote, "The fact that Israel bears responsibility for the creation of the refugees is beyond argument… Today, Palestinian refugees constitute more than 7 million people worldwide – 70 percent of the entire Palestinian population. Disregarding their legitimate legal rights enshrined in international law, their understandable grievances accrued over prolonged displacement, and their aspirations to return to their homeland, would certainly make any peace deal signed with Israel completely untenable."
If the United States tries to force it, as well as Israel, to compromise, the Palestinian Authority holds an option not available to Israel. PA Chairman Mahmoud Abbas Abbas has made it clear that if the Obama administration cannot meet its demands, it will go to the pro-Arab United Nations. It already has secured the recognition of Brazil, Uruguay and Argentina, a unilateral move that violates the Oslo Accords.