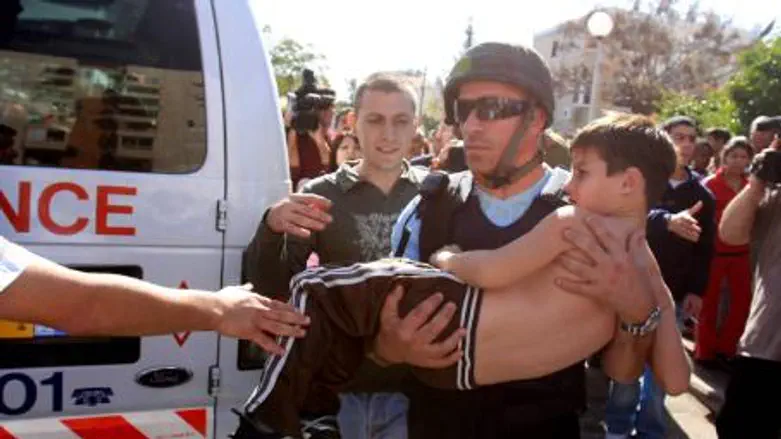 Evacuating the wounded after rocket attack
Israel news photo: Flash 90
Terrorists in the de facto Hamas government continue to smuggle weapons into Gaza, and possess 5,000 medium-range rockets with a range of 25 miles, including several that can bomb Tel Aviv, security chief Yuval Diskin said Tuesday.
Speaking to the Knesset Foreign Affairs and Security Committee, Diskin warned that lifting the maritime embargo on Hamas would "be a huge security breach." Prime Minister Binyamin Netanyahu already has rejected a proposal by the Quartet's Middle East envoy Tony Blair that Israel allow aid to reach Gaza by sea after it is inspected at Cyprus.
Diskin also informed the committee that 80 percent of the Gaza rockets, or about 4,000, are in the hands of Hamas, while the remainder are scattered among the Islamic Jihad and other terrorist groups.
"Hamas also possesses several rockets that can reach central Israel," meaning metropolitan Tel Aviv, he added. During last year's Cast Lead war against the Hamas terrorist infrastructure, missiles exploded as far north as Ashdod, several miles from Tel Aviv's suburban communities.
Diskin said that although there is no humanitarian crisis in Gaza, an easing of the blockade could be implemented in order to allow the supervised transfer of a wider variety of goods and merchandise.
The flotilla clash two weeks ago has resulted in unprecedented international pressure on Israel to end the embargo, placed into effect three years after Hamas wrestled power from the rival Fatah faction in a deadly militia war.