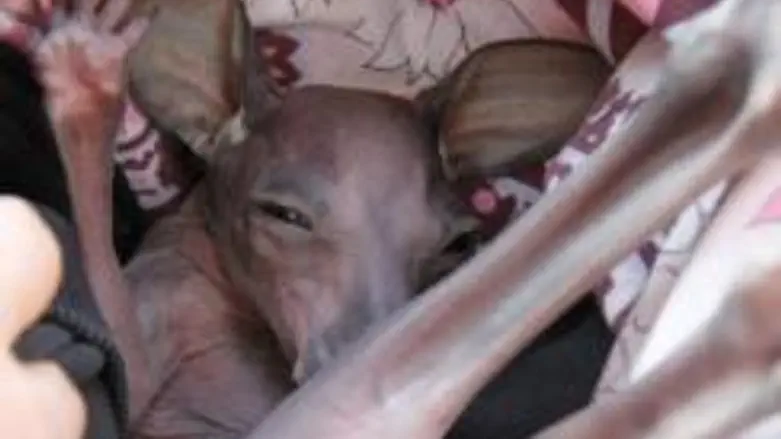 Baby 'roo' at Gan Garoo Zoo
Israel news photo: courtesy of Gan Garoo Zoo
A baby kangaroo who fell from his mama's pouch was rescued by caretakers at the Gan Garoo Zoo in the Jordan Valley. He was returned to his mother the very next day, surviving the experience against all odds.
Nadav Kfir, director of the Gan Garoo Zoo Australia-Israel near Beit She'an, explained that a baby kangaroo is born after 35 days of pregnancy. The little roo grows to the size of a peanut, climbing around in his mother's pocket and growing for nine months. "After that the baby continues to accompany his mother and to suckle milk from her until he is about 18 months old, and then he becomes independent," Kfir said.
However, this particular little red kangaroo took a different route. "At the end of last week, a three-month-old red kangaroo baby was found lying on the ground. The baby's mother was discovered nearby, but she refused to approach, and all attempts to catch her and replace the baby in her pocket failed."
The baby kangaroo was taken home for the night by one of the zoo's caretakers, who fed him with a small bottle. The next day, she brought him back for another reunion try.
The mama kangaroo was put to sleep by the veterinarian at the zoo, who was able to inject a mild anesthetic into the adult via a small medical dart. The baby kangaroo was then carefully re-inserted into his mother's pocket. Although he initially required assistance with finding a nipple to suckle for food, he quickly caught on, and succeeded in re-establishing a drinking pattern.
Since then, "the baby is riding comfortably in his mother's pocket," smiled Kfir.