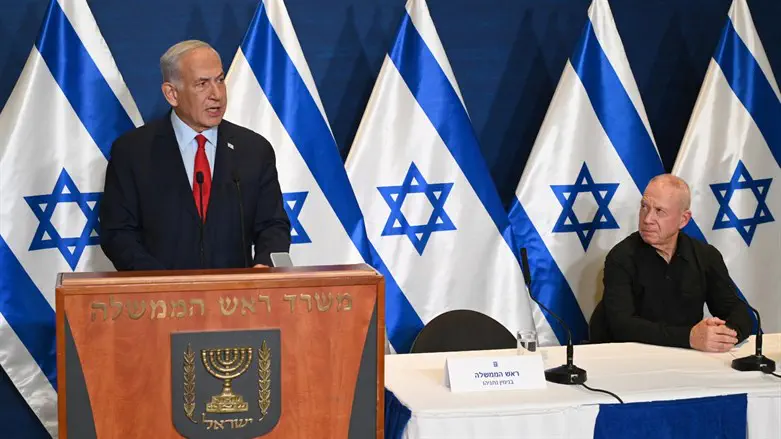 Netanyahu and Gallant
Haim Zach (GPO)
At the end of a security situational assessment, Prime Minister Benjamin Netanyahu commented on the military operation in Jenin and said that "the IDF last night launched an extensive operation against terrorist targets in Jenin. In recent months, Jenin has become a haven for terrorism - we are putting an end to it."
"Our forces entered Jenin into the nests of terrorists - they eliminate terrorists, they arrest wanted persons, they destroy headquarters and seize many weapons, and they do another thing - they destroy laboratories on an almost industrial scale. Laboratories from which they made explosives and IEDs intended for the slaughter and murder of Israeli civilians. They are doing all of this in one of the densest places on earth, and they are doing it with minimal harm to civilians up to this moment, and no harm to those not involved, and this is the directive - to look after the security of our forces and also to avoid harming innocent people as much as possible," Netanyahu said.
Netanyahu also said that "I have been saying for some time that we are dealing with changing the equation against terrorism, we did it two and a half years ago in Operation Guardian of the Walls against Hamas, we set it back a decade. We did it a few weeks ago in Operation Shield and Arrow, in which we eliminated senior Islamic Jihad leaders, and we are doing it today in Jenin through a combination of surprise measures, power, and changing the rules. This also adds to the deterrence capacity of the State of Israel, both to protect against additional terrorist attacks and to change the equation in the region."
At the end of his speech, Netanyahu said: "I would like to thank and express my appreciation to the Minister of Defense, the Chief of Staff, the head of the Shin Bet, and the IDF commanders - those here and those in the field, and the soldiers who are doing an outstanding job. I know that all the citizens of Israel stand behind them. We will continue this action as much as possible required to restore peace and security to the citizens of Israel."