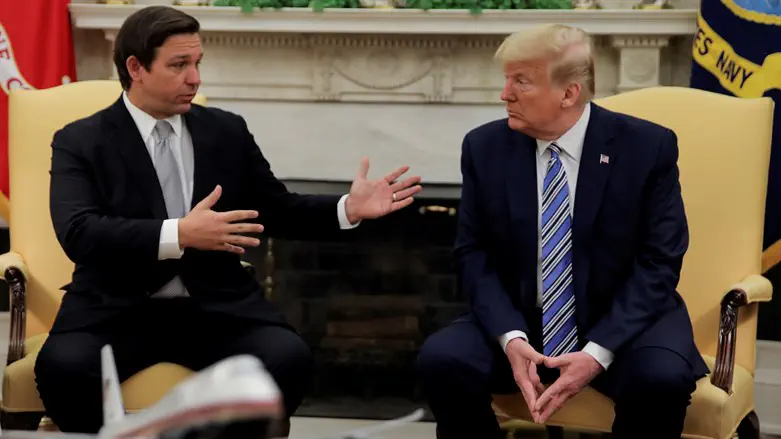 Ron DeSantis and Donald Trump
REUTERS/Carlos Barria/File Photo
A Yahoo News-YouGov poll taken after former US President Donald Trump was indicted by a Manhattan grand jury finds that Trump still maintains a strong lead in a hypothetical Republican primary poll
The poll found that Trump holds a 31-point lead over his next closest potential GOP rival, Florida Gov. Ron DeSantis, with 52 percent of the vote. DeSantis came in second with 21 percent, followed by former Ambassador to the United Nations Nikki Haley with 5 percent and former Vice President Mike Pence with 3 percent.
Other current and possible candidates included in the poll received 2 percent or less, while 11 percent said they were not sure.
In a head-to-head matchup, Trump leads DeSantis by 26 points, 57 percent to 31 percent, while 12 percent said they were not sure.
The polls were taken among Republicans and Republican-leaning independents.
On how people feel about Trump's indictment, 39 percent of adults said they are enthusiastic or satisfied with it, while 37 percent said they are dissatisfied or angry. Respondents were also split on the motivation behind the indictment against Trump, with 43 percent saying they believe political bias is the primary motivation and 42 percent saying a genuine desire to hold Trump accountable is the motivation.
So far, Trump has confirmed his intentions to seek the 2024 Republican nomination, as has Haley. DeSantis has not yet announced a presidential bid, but has been actively preparing for a campaign and is widely expected to make a final decision later this year.
Pence has said he will make a decision "by the spring" about whether to seek the presidency in 2024.