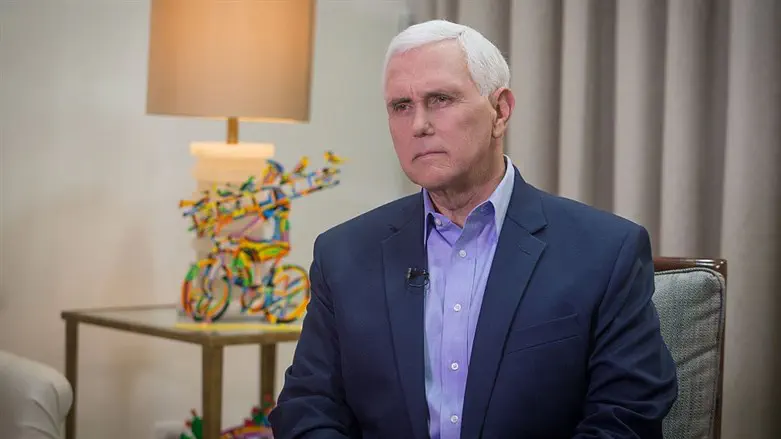 Mike Pence
Ami Shoman/Israel Hayom
Former US Vice President Mike Pence said on Friday that he will make a decision "by the spring" about whether to seek the presidency in 2024 and suggested that he would pledge to support the eventual GOP nominee if that's a condition of participating in primary debates.
"If I'm a candidate, I'm sure I'll meet whatever the requirement is for debates," Pence told NBC News in an exclusive interview.
As for his timing, Pence said he has a little while before he has to make a decision.
"We're listening, we're reflecting, we're talking to firms," Pence said, adding that "by the spring, our family expects to have a very clear sense of our calling."
Pence had previously hinted on several occasions that he intended to seek the GOP nomination. In mid-December, he told Fox News that he would announce a decision on seeking "national office" in the new year.
Last week, Pence strongly hinted that he will soon announce his candidacy for the Republican presidential nomination, telling reporters in Iowa that former South Carolina governor Nikki Haley, who has officially entered the 2024 race, "may have more company soon".
His timing could be complicated by special counsel Jack Smith's investigation into former President Donald Trump. Smith is asking a federal judge to compel Pence to testify before a grand jury about Trump's Jan. 6, 2021, effort to overturn the results of the 2020 election.
"I'll let the process play out, and we'll work with our counsel to make sure that we do as we've always done, and that is adhere to the Constitution," Pence told NBC News.
Pence was subpoenaed earlier this month by Smith, the special counsel who was appointed in November by Attorney General Merrick Garland to lead the Justice Department's Trump probes.
The Vice President last week stated that he was willing to fight the subpoena all the way to the Supreme Court, adding his role as president of the Senate — which he was fulfilling during Capitol riot on Jan. 6, 2021 — makes him immune from the criminal grand jury proceedings Smith is leading.