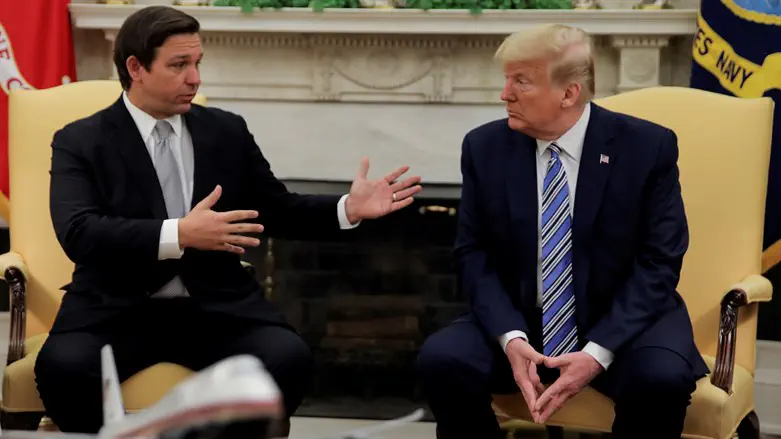 Ron DeSantis and Donald Trump
REUTERS/Carlos Barria/File Photo
Florida Governor Ron DeSantis on Wednesday fired back at former US President Donald Trump, after Trump attacked him on social media, saying that he spends his time "delivering results" instead of criticizing fellow Republicans, The Hill reported.
"I spend my time delivering results for the people of Florida and fighting against Joe Biden," DeSantis was quoted as having said at a press conference Wednesday. "That's how I spend my time. I don't spend my time trying to smear other Republicans."
The comments came a day after Trump fired off a series of posts criticizing DeSantis on his social media app, Truth Social.
The former President reposted other users' posts that alleged DeSantis was at a party with underage girls when he was a high school teacher and posted that he would not have endorsed DeSantis had he known he voted against a border security bill when he was a member of the House in 2018.
"Wow, if I knew that I wouldn't have Endorsed him (and he would have had to quit the race, down 35 points!)," Trump said in response to a post that said DeSantis did not vote for the bill.
DeSantis was asked on Wednesday about comments he made on Tuesday, when he suggested that the Florida legislature should make it easier for people to hold the media accountable for defamation.
Asked about whether this new proposal would address those posts by Trump, DeSantis replied the proposal is not for people like him who have platforms and could fight back.
DeSantis is widely expected to announce his candidacy for the Republican nomination for the 2024 Presidential elections and challenge Trump.
A recently released poll found that Republican and Republican-leaning voters favor DeSantis as their presidential candidate.
Trump has said in the past that he believes he would prevail in a Republican primary that may include DeSantis.
However, he recently warned DeSantis against running for president in 2024, saying, "I think he would be making a mistake. I think the base would not like it. I don't think it would be good for the party."
Last month, Trump said that a 2024 presidential run by DeSantis would be "a great act of disloyalty".