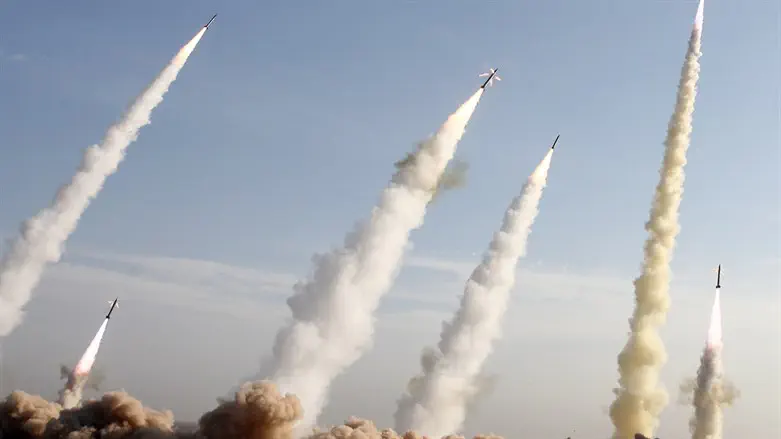 Iranian missiles
Reuters
Iran said on Friday that it developed a cruise missile with a range of 1,650 km, in a move likely to raise Western concerns after Russia's use of Iranian drones in the Ukraine war, Reuters reported, citing Iranian media.
An Iranian television report broadcast what it said was the first footage showing the new Paveh cruise missile.
Iran's ballistic missile tests and satellite launches in recent years have been condemned by the West and particularly the US, which says that Iran's ballistic missile tests are a violation of UN Security Council resolution 2231, which enshrined the 2015 nuclear deal between Iran and world powers.
Iran denies its ballistic missiles violate this UN resolution.
Separately, Amirali Hajizadeh, the head of the Revolutionary Guards aerospace force, also spoke of Iran's often repeated threat to avenge the US killing of a top Iranian commander, saying, "We are looking to kill (former US President Donald) Trump."
"Our cruise missile with a range of 1,650 km has been added to the missile arsenal of the Islamic Republic of Iran," Hajizadeh was quoted as having told state TV.
"God willing, we are looking to kill Trump. (Former Secretary of State Mike) Pompeo ... and military commanders who issued the order (to kill Soleimani) should be killed," Hajizadeh added.
Soleimani, head of the Quds Force of the Iranian Revolutionary Guard, was killed in a US drone strike ordered by then-US President Donald Trump in neighboring Iraq in January of 2020.
Iran in 2020 issued an arrest warrant against Trump and asked for Interpol's aid in detaining him in the killing of Soleimani.
Interpol swiftly rejected the request, saying its guidelines for notices forbids it from "any intervention or activities of a political" nature.
Iranian leaders have often vowed to avenge the death of Soleimani. Last year, an animated video published on the website of Iranian Supreme Leader Ayatollah Ali Khamenei depicted the assassination of Trump.