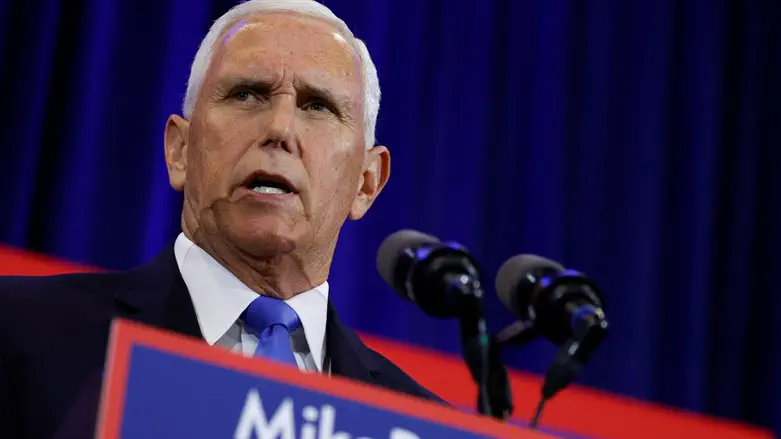 Mike Pence kicks off presidential campaign in Iowa
REUTERS/Jonathan Ernst
Former US Vice President Mike Pence said on Thursday that voters should expect to see the same, more combative candidate at the next GOP debate, The Associated Press reported.
Pence also urged his former running-mate-turned-rival Donald Trump to join his competitors on stage next time around.
"You know, elections are about choices and I welcomed the opportunity last night to draw a contrast with other candidates on the stage who I think are walking away from the conservative agenda that has defined our movement for 50 years and holds the keys for restoring American leadership in the world and American prosperity and security at home," Pence said in an interview from Milwaukee a day after the first Republican presidential primary debate.
During Wednesday's debate, Pence delivered a surprisingly pointed performance. He launched repeated attacks against his non-Trump rivals and tangled, in particular, with 38-year-old tech entrepreneur and political novice Vivek Ramaswamy.
At one point, Pence was reprimanded by the Fox News moderators for going after his allotted time.
The debate came as Pence and his campaign have taken a more aggressive posture toward Trump following a pair of indictments related to the former President's efforts to overturn the results of the 2020 election.
Despite this, Pence was one of all but two of the candidates who clearly raised his hand when asked Wednesday night whether they would support Trump if he is the nominee and convicted on criminal charges. Only former Arkansas Gov. Asa Hutchinson would not say he'd support Trump if he were convicted.
Pence also rebuffed Ramaswamy's efforts to get him to commit to a possible pardon if he is elected, saying that a pardon "usually follows a finding of guilt and contrition by the individual that's been convicted."
"What I wanted people to understand, and I say it with great humility, is that I am the most qualified, the most tested, the most proven, conservative leader vying for the Republican nomination," he said on Thursday, according to AP, adding his strategy at the debate "was just to be myself."
"Look, I understand most people know me as vice president. And I took that role very seriously. You take a half step back, you're prepared, you're of service. I thought the vice president should never be the story and I took that posture. But people that have known me over the years know that I know how to fight for what I believe in," he said.
Pence was the subject of one of the questions at the debate, when candidates were asked whether they believed he had done the right thing by rebuffing Trump's efforts to stop him from certifying Joe Biden's presidential election victory on Jan. 6, 2021. All but Ramaswamy said he had.
In his remarks on Thursday, Pence said he hoped Trump will change his mind and join the other candidates on stage at the next Republican debate in California next month.
"I believe that this country's in a lot of trouble and every man and woman who aspires to carry the banner of the Republican Party owes it to the American people to get on that stage to answer the tough questions and to articulate their vision for the future of the country and let the voters decide," said the former Vice President.
Trump has chosen to skip the debates, citing his popularity in the polls and arguing that "the public knows who I am."
On Wednesday, instead of taking part in the debate, Trump pre-recorded an interview with former Fox News host Tucker Carlson. The interview was released to Twitter five minutes before the start of the debate.