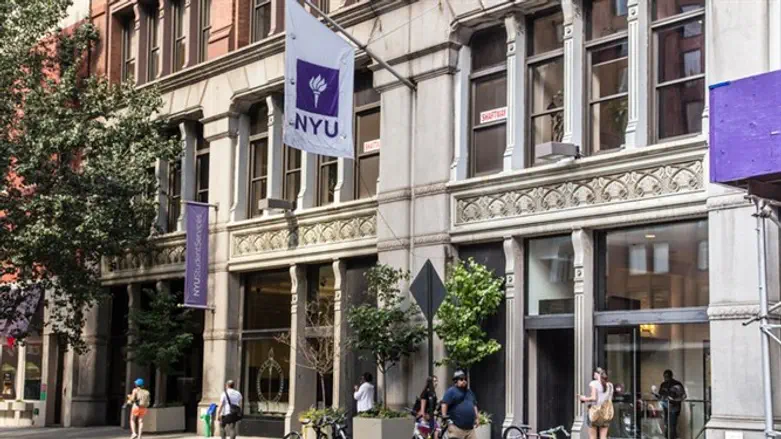 An NYU student-to-be who cancelled her acceptance to NYU
E. decided to withdraw from NYU and attend Stern College, the women's campus of Yeshiva University. Professor Phyllis Chesler shared with Arutz Sheva the letter E. wrote to the university in order to  communicate her decision:
To whom this may concern:
I have decided to withdraw from NYU beginning in the Fall of 2019.  This decision is made with real sadness as I was very excited to apply early decision to NYU and have looked forward to attending for a many years. 
My family has a long connection to NYU going back to my great-grandfather X who founded the department of music and was a professor at NYU for many decades.  Notably, when my great-grandparents passed, they asked that their ashes be sprinkled around Washington Square Park due to their close connection with NYU.
Unfortunately, it appears the NYU my family has known is changing.  It has now become clear to me that as a Jew, if I were to attend NYU I would be affiliating myself with an institution that accommodates faculty members and student organizations that are dedicated to anti-Semitic ideologies. 
Some on your campus differentiate between anti-Zionism and anti-Semitism, however, I am not one of those people.  This age-old hatred of my people wears different disguises in different generations but it's root objective is always the same.
I will not stand by as it is allowed to take form at NYU and will certainly not attend an institution where my core beliefs and very existence is being threatened.
Respectfully,
E.
Arutz Sheva calls on American Jewish leadership to act now. We need a multi-faceted and courageous plan because we can no longer ignore antisemitism on US college campuses and leave the fight to grassroots organizations, no matter how dedicated they are. American Jewish leadership must demand that American values return to the halls of academia where Jewish students continue to evince outstanding intellectual abilities, but increasingly are unable to feel safe.
Instead of remaining a place where ideas and backgrounds mix harmoniously, or at least contend civilly,  as the Jewish Virtual Library's editors write, campuses are becoming dangerous places for pro-Israel students. 
Students for Justice in Palestine (SJP) and Jewish Voices for Peace engage in antisemitic hate speech openly, whle administrations dither. 
Pro-Israel students are suffering open harassment. As Brooklyn College CAMERA Fellow Aliyah Jacobson. wrote several months ago in campus outlet Night Call News, anti-Israel campus activities are no longer intent on solely harming the state of Israel, but increasingly and alarmingly they are intent on harming pro-Israel members of the campus community.
It is hard to beleve how easily Arab students, ignoring the rules of civilized behavior, are able to act like the brownshirted hoodlums that enabled Hitler's rise to power with almost no fear of punishment. It is even harder to believe how easily their lies manage to brainwash American students and student organizations..
History tells us, says Sean Durns in the Washington Examiner, that strong and judicious institutions are essential to a functioning democracy. And history is equally clear that growing anti-Semitism is the "canary in the coal mine," a sign of the decay and impending collapse of liberal values.
Are we back in 1930s Germany? It certainly seems like it, but can this be happening in America?.