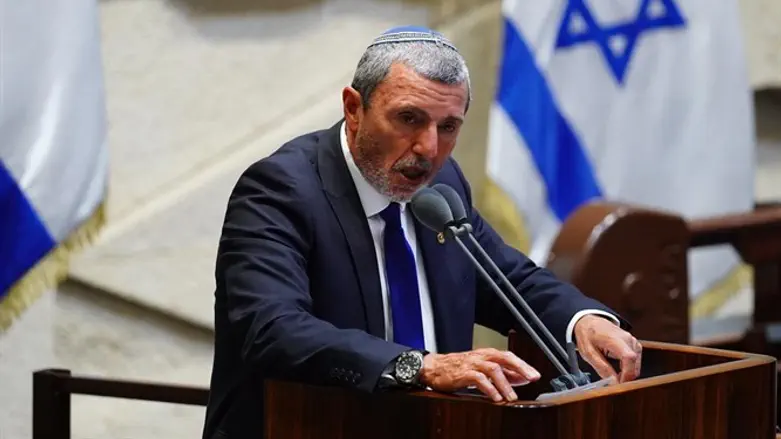 Rabbi Rafi Peretz
Knesset spokesman/ Adina Velman
Minister of Jerusalem and Heritage Rabbi Rafi Peretz clarified his opposition to a bill blocking legal prosecution of individuals for cannabis use proposed by Education, Culture, and Sports Committee Chairman MK Ram Shefa (Blue and White) and Likud MK Sharren Haskel.
"I supported the legislation of the law on non-incrimination," he said. "You can't just press charges against youngsters that end up sticking with them for the rest of their lives for every small infraction," he explained.
"However, I'm opposed to the parts of the law proposed by MK Ram Shefa," he stated. "We cannot abandon our youth to a future filled with drug abuse. It starts with marijuana and ends with much more serious drugs," noted Rabbi Peretz.
The Ministerial Committee on Legislation approved the bill to decriminalize the use of cannabis today (Sunday).
The bill is expected to be passed into law by the Knesset on Wednesday.
Haskel has led a campaign for the decriminalization of cannabis use in Israel. In recent interviews, she has indicated her intentions of promoting the cause, stating that she expects the bill to be passed in the coming months.
Following the developments, Rabbi Peretz stated: "Patients in need of medical cannabis should be allowed to receive relief, but the State must build a mechanism that will not allow teens to be thrown under the bus."
"In light of my demand, the law will return to the ministerial committee before the first reading to ensure that the younger generation [avoids the threat of serious drugs] and that defense mechanisms are instated," noted Peretz.
Earlier this month, The Supreme Court received the position of the State and Public Security Minister Amir Ohana requesting a reduction in penalties for citizens accused of illegally using drugs such as marijuana in what signaled a major government policy change.
According to the ruling, "…the Temporary Order should be reconsidered in order to minimize any harm to normative citizens attributed to cannabis drug-related offenses."
Ohana had previously stated that, "The normal course of life of too many civilians was violated. Not because of cannabis - but because of the criminal enforcement of its consumption. They took mostly law-abiding citizens and turned them into criminal offenders - not for hurting others, but for allegedly causing damage to themselves."
"It's time to change course," the minister declared at the time. "Therefore, we, the Prime Minister and the Likud Movement, announced two actions: the first - the establishment of a committee that would outline an appropriate legislative path for regulating the legal use of cannabis based on the Canadian model. The second - rectifying past injustices."