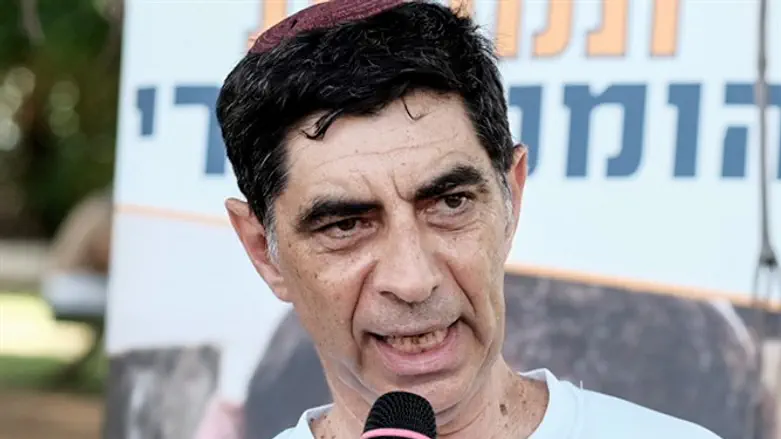 Professor Simcha Goldin
Flash 90
In an interview with Army Radio, Simcha Goldin, father of Hadar Goldin whose body is held by Hamas, referred to IDF Spokesman claims that statements after their meeting with the Chief of Staff reported by the family, whereby the missing soldiers could be returned within a week if the political establishment so wished, were taken out of context.
On Friday, the Goldin family met with Chief of Staff Eizenkot and later issued a statement quoting parts of the discussion. According to the statement, during the meeting the Chief of Staff said, "All projects in Gaza must be halted until the soldiers and civilians are returned. Stop everything but water, food, sewage, and medicine."
Eizenkot also reportedly stressed that if the political system wished, the boys could be returned within a week. "From the difficult meeting, we concluded that the Prime Minister doesn't want to return the soldiers to Israel," said the Goldins following the meeting. "For the third time the Prime Minister once again played with the families' feelings and tricked us. Netanyahu agrees to pay salaries to Hamas' terror apparatus before demanding the soldiers be returned to Israel."
The IDF Spokesman claimed the Chief of Staff's remarks were taken out of context. The spokesperson said quoted remarks were "partial" and did "not represent what was said at the meeting. During the meeting, the Chief of Staff represented the IDF's view as it regularly comes to expression before the political echelon in closed talks, and which hasn't changed in recent years."
"The Chief of Staff is the my son's commander; we very much appreciate what he's doing vis-à-vis the politicians and the families," Goldin said during the interview in response. "We went to the Chief of Staff to hear the position of my son's commander regarding the arrangement. What we reported of the Chief of Staff's words is what we understood," he said.
"I'm prepared to stand behind what the IDF Spokesman said, that it was taken out of context," conceded Goldin. "But we were speaking of the arrangement and where the soldiers are in it and what my son's commander's position is.
"According to the reports, the Egyptians will act to bring the boys back; my son's an Egyptian soldier?" wondered Goldin. "Even the Turkish agreement said they'd bring him back. If a soldier falls into Hezbollah's hands, the Lebanese will return him? After the IDF Spokesman's statement I'm willing to say it was taken out of context - but our question is 'What is the Chief of Staff doing?'" he added.