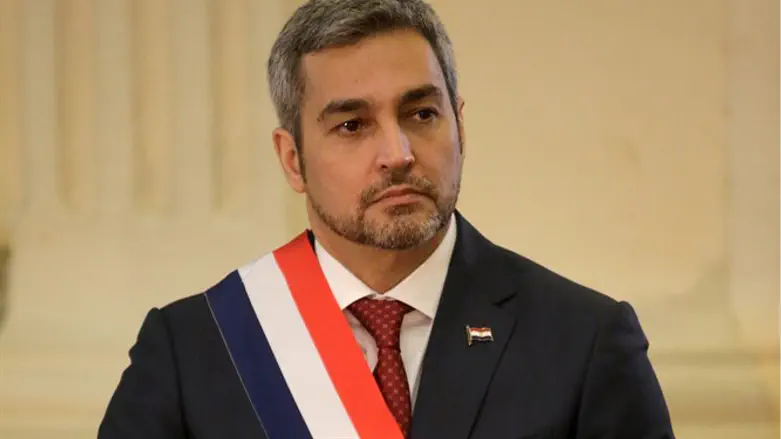 Paraguay's new President, Mario Abdo Benitez
Reuters
Israel's Economics Ministry cancelled a planned visit to Paraguay by a delegation of Israeli economists, as part of the ongoing diplomatic dustup following Asunción's decision to relocate Paraguay's embassy in Israel from Jerusalem to Tel Aviv.
In May, Paraguayan President Horacio Cartes inaugurated his country's new embassy in Jerusalem, following similar moves by the US and Guatemala.
Last week, however, Paraguayan Minister of Foreign Affairs Luis Castiglioni announced that the embassy would be moving back to Tel Aviv, something he hoped would "contribute to an intensification of regional diplomatic efforts" towards a lasting peace agreement.
The decision to move the embassy back was reached by Paraguay's new president, Mario Abdo Benitez, following pressure from Arab leaders and Turkey, who argued that the move would help spur peace talks in the region.
In response to the announcement, Prime Minister Binyamin Netanyahu instructed the Foreign Ministry to return the Israeli ambassador to Paraguay back to Israel for consultations, and to close the Israeli embassy in Paraguay.
On Wednesday, it was announced that Economics Minister Eli Cohen (Kulanu), had cancelled a trip by a ministry delegation to Paraguay planned for this coming December.
The delegation was intended to work towards strengthening economic ties between the two countries, and aiding Paraguay's economic development.
"The decision by the new president, President Benitez, has a heavy economic price – not just a political one," Cohen said. "His attempt to strengthen economic ties with Israel and enjoy Israeli technology while at the same time violating an agreement made between the two countries is hypocrisy, which has a price."