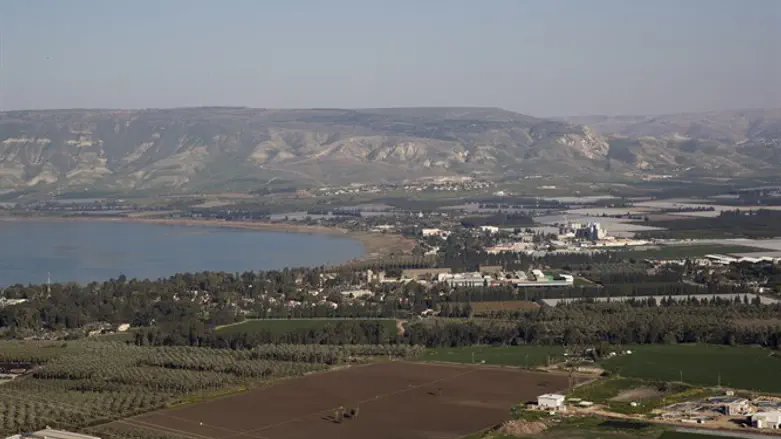 Agricultural fields near the Kinneret
Flash 90
Israel is expected to suffer its sixth straight year of drought, the Water Authority announced Sunday, even with an increase in rainfall over previous years, TheMarker reported.
Water Authority chairman Giora Shaham stated that "forecasts are going to be an average year, maybe a bit more, but forecasts are are forecasts."
According to the Authority's forecast, Israel's natural water reservoirs are so low that even if there is a little more precipitation than last year and the pumping from the Sea of ​​Galilee does not resume, the Sea of ​​Galilee will remain below the red line. The Water Authority is preparing to allocate water for 2019 and is waiting for more accurate forecasts which will come in mid-September.
Shaham stated: "I will not let the Coastal Aquifer and the Mountain Aquifer fall beneath [the red line], as happened in Gaza, even if it entails further cuts. In 2009, a regulation was issued prohibiting the irrigation of private and public gardens, and fines were imposed on violators, because the consumption of water for gardening is significant. There will be a rationalization of operations that will adjust consumption to what there is, so that we will not use too much and endanger our stability."
He said that the drought conditions could cause indirect damage to Israel's economy. " "The drought causes a lot of damage to the soil and the air, and we have seen severe damage to crops in the Besor region and in the northern Dead Sea, according to farmers."
"We spend nights and days preparing to minimize the damage of this rare natural phenomenon," Shaham added. "We made a significant move with the reclamation plants. We informed the farmers in the Gaza vicinity that as a result of increasing the efficiency of the introduction of effluents into the ground, another 10 million cubic meters of water from effluents can be supplied."
Shaham also discussed the planned construction of two desalination plants. "We are in an accelerated process of planning and selling two desalination plants. The facility at Sorek [already exists], and we are proceeding with an accelerated statutory process for a desalination plant in the Western Galilee.
He said that the Water Authority is partnering with the Education Ministry to teach Israelis the importance of water conservation during the drought.
Knesset Water Lobby head MK Yael Cohen Paran (Zionist Union) responded to the report that the drought would continue: "The climate crisis is already here and the expectation is that Israel will experience another drought year. Water is life and this is the main resource that humanity will fight over in the future. In order for us not to reach the state of Cape Town - which is rationing tap water. The government must prepare a multi-year plan for the management of the water resource. As chairman of the Water Lobby, I intend to initiate a special discussion on the subject when the Knesset session begins."