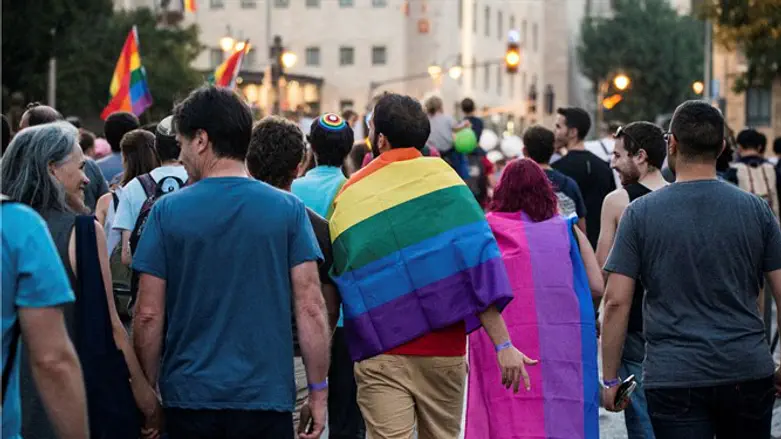 LGBT demonstration
Kobi Richter/TPS
More than 100 rabbis from the religious Zionist movement on Thursday wrote a letter criticizing what they called the "terror" of the pro-LGBTQ campaign.
In the letter sent to Walla News, the rabbis accuse the LGBTQ organizations of "aggressive terrorism" and "brainwashing the media as if there is some kind of family concept" in order to "turn the perverts into heroes."
The rabbis, including Rabbi Yigal Levinstein, Safed Chief Rabbi Shmuel Eliyahu, and Rabbi Dov Lior and other senior officials, claim that the children who will be born surrogate to gay couples "will be miserable if they are not adopted in normative families."
The letter was published by the Rabbis, at the initiative of the Rabbis of Emunah, the trustees of the Chief Rabbinate and the LIBA Center in support of Jerusalem Chief Rabbi Aryeh Stern. Earlier this week, Rabbi Stern gave an interview with Kan Radio in which he opposed same-gender couples raising children as if they were a normative family. "No one talks about the fact that children are raised here into a very strange and unnatural life, without a father or a mother, and it is very possible that the children are ultimately miserable," said Rabbi Stern.
In their letter, the rabbis expressed their support for Rabbi Stern's remarks and wrote that he "spoke with force and simplicity of the eternal truth of our holy Torah and the human normality with which the healthy majority of the State of Israel is shocked by the provocations and path of these abominable organizations, to take bold steps in the cities of Israel, and even moreso to carry out and carry out these abominable marches on Tisha B'Av, a national day of mourning for the destruction of the Temple, with a sword for sexual deviancy and baseless hatred."
The rabbis accused the LGBTQ organizations of attempting "to destroy the concept of family and turn the devils into heroes. They noted that the attempt to do so "will not succeed, as will the attempt to shut the mouths of rabbis and sane people and turn them into extremists and delusional. Rabbi Aryeh Stern came out in defense of the children of Israel, who will be miserable if they are not adopted by normative families."
At the end of the letter, the rabbis said that their words were intended to shout "the cry of the children who have no place here, to prevent them from having a miserable life, and to give them the basic right to live in a normative natural family in order to raise normal, healthy people." The letter was signed by senior rabbis in the religious Zionist community, among them Rabbi Yigal Levinstein, Rabbi Shmuel Eliyahu, Rabbi Dov Lior, Rabbi Yisrael Tzvi Tau, and Rabbi Elyakim Levanon,