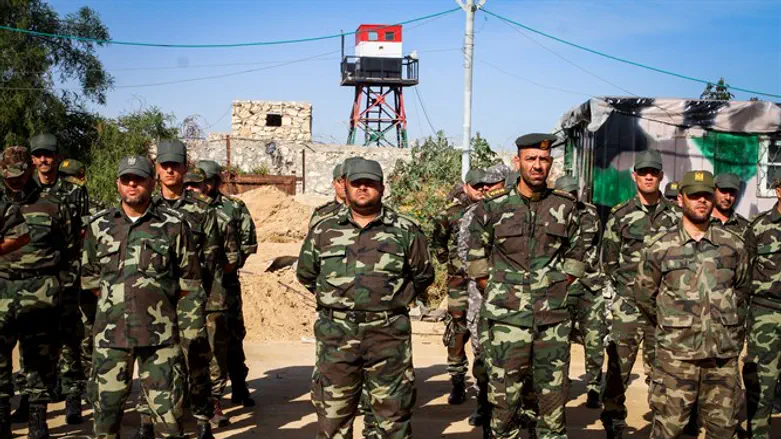 Hamas terrorists in Gaza
Flash 90
Hamas warned on Monday evening of "grave consequences" following Israel's decision to reduce the transfer of fuel and gas through the Kerem Shalom crossing.
Fawzi Barhoum, a spokesman for the terrorist group, said that "this is another crime that Israel is committing against the Palestinian people and the residents of the Gaza Strip in the wake of the regional and international silence over Israel's crimes and the absence of deterrent resolutions against it in the international arena."
He further claimed that "Israel's acts of revenge illustrate the extent of the injustice done to the Gaza Strip" and stressed that "they will never succeed in influencing national positions regarding the continuation of the resistance in order to forcibly take the rights and bring about the lifting of the siege."
Defense Minister Avigdor Liberman decided earlier on Monday evening, together with the IDF Chief of Staff, to close the Kerem Shalom Crossing to Gaza for fuel and gas transfers until Sunday. Food and medicines that will be approved on an individual basis will continue to be transferred through the crossing.
It was also decided that the fishing space in Gaza would be reduced from a range of six nautical miles to three nautical miles.
Liberman's office said that the decision was made in light of Hamas' continued terrorist activity.
Last week, Prime Minister Binyamin Netanyahu and Liberman announced that the Kerem Shalom crossing would be temporarily closed. The decision was made in response to the continued arson terror perpetrated by Gazan terrorists using incendiary kites and balloons sent from Gaza into Israeli territory, as well as other attempts at terror attacks.
Following last week's decision, Hamas decided to stop fruit imports from Israel from entering Gaza, a move intended to "punish" Israel but which essentially harms Gazans.