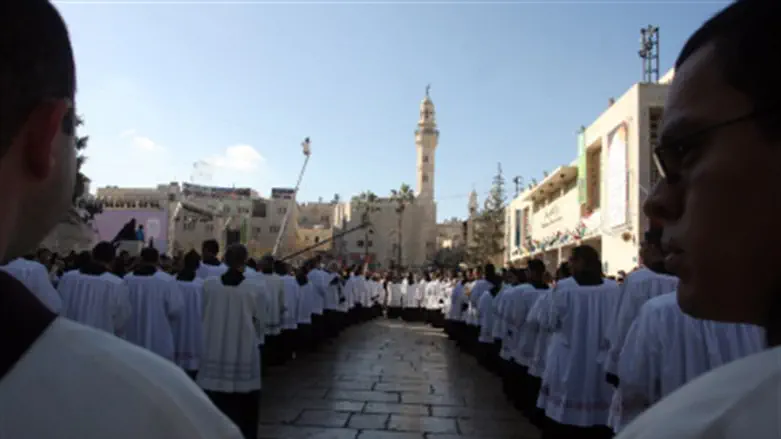 Manger Square outside Church of Nativity
Flash 90
The prestigious Skirball Center for Performing Arts at New York University will soon be hosting a reenactment of events that took place during Israel's counterterrorism Operation Defensive Shield in 2002 - from a distinctly anti-Israel perspective.
A new theatrical production called "The Siege," performed by the PA-based "Freedom Theatre," is set to be hosted at the center from October 12 - 22, with the price of a ticket going for $65. The production claims to retell the story of the IDF siege on Bethlehem's Church of the Nativity, in which armed Palestinian Arab terrorists had barricaded themselves, while taking 46 clergy members and 200 civilians - including children - hostage. The terrorists also booby-trapped the site, threatening to blow it up along with those inside. After a long period of negotiations, 13 of the terrorists were exiled to foreign countries and the rest to Gaza, while the IDF ultimately defused the explosives set by the terrorists at the site, which holds religious significance for Christians.
The explanation given on the Skirball Center's website ahead of the production, however, indicates that the "passionate retelling" will be told from a biased, anti-Israel perspective that paints the terrorists as heroes.
"Drawn from interviews with survivors," the explanation says in reference to the terrorists, "it is told from the point of view of some of the armed Palestinian fighters who found refuge in the church. Along with 200 civilians, they were given sanctuary by the church's resident priests and nuns and spent 39 days there with dwindling food, water and medical supplies. While the world watched, the fighters grappled with survival, ideology, and the decision to continue the struggle to the end, or surrender."
According to Amit Deri, who heads the anti-BDS organization of former IDF soldiers "Reservists on Duty," his group is seeking to collect first-hand accounts from fighters who participated in the operation in question, and to present the accounts at the site of the performances at NYU.
"Instead of bringing students current events, like the mass murders in Syria and the oppression of Muslim governments around the world, NYU chooses to bring to students a presentation which deals with events from 15 years ago," Deri said, according to Israel Hayom. "An incident in which Palestinian terrorists barricaded themselves, shooting from the church onto IDF forces while holding dozens hostage. We at Reservists on Duty will continue to expose and bring attention to similar events in the future."