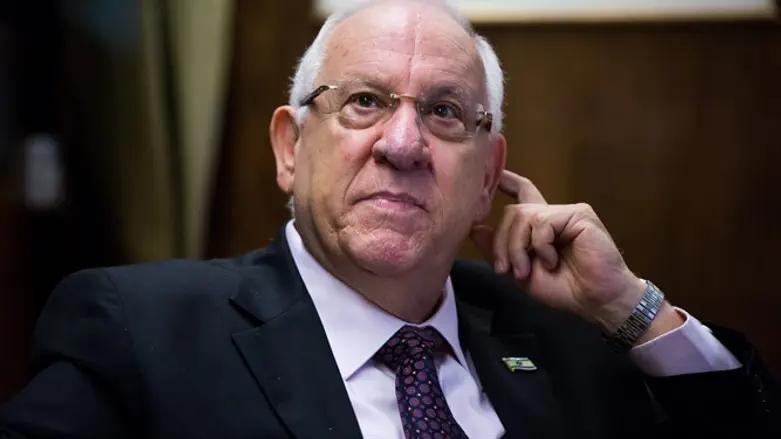 President Reuven Rivlin
Flash 90
After Chief of Staff Gadi Eizenkot announced a reduction of four months in Elor Azariya's jail sentence earlier today, Wednesday, Azariya is expected tomorrow to submit a request for pardon to Israel's President Reuven Rivlin, according to Channel 20.
The President has the ability to release Azariya immediately, further reduce his sentence, or grant him a complete pardon, which would also erase the manslaughter conviction against him.
According to the report, the President is expected to give his response within two months of the request's submission.
Azariya was convicted of manslaughter in January for the shooting death of a wounded Arab terrorist minutes after an attack in Hevron that left one soldier wounded.
In February, an IDF court sentenced Azariya to 18 months in prison.
Earlier today, it was announced that the IDF would cut Azariya's prison term from 18 to 14 months.
The response from Eizenkot's office called Azariya's behavior during the shooting incident "unacceptable", and highlighted the fact that the former soldier had not expressed remorse for his actions.
"The Chief of Staff views your behavior as unacceptable and in violation of army regulations and IDF values."
"In addition, the Chief of Staff noted that you never accepted responsibility for the incident or expressed remorse for it."
Despite that, the letter from the Chief of Staff's office informed Azariya that the army would trim his sentence by four months.
"Based on his authority, the Chief of Staff decided to respond to your appeal generously and with mercy, taking into consideration your service as a combat soldier."
Later in the afternoon, Azariya responded to Eizenkot's announcement.
Azariya, who was notified of the decision by his family, who visited him in jail, said, "I thank the Chief of Staff for the sentence reduction. He made this decision with the attribute of kindness and mercy, an attribute that the Holy One, Blessed be He gave to each and every one of us. Even so, I am sorry that the military prosecution recommended to the Chief of Staff not to shorten my sentence by even one day."
"Among our enemies, we must remember, there is no kindness and mercy, they hunger for murder and are full of hatred. I say, once again, that I acted out of a feeling of danger at the scene of the attack in Hevron against a lowly terrorist who came to murder, and he who comes to kill you - kill him first," Azariya added, citing a Talmudic phrase.
"We are full of compassion, sanctify life and seek peace - and our enemies hunger for Jewish blood, this is the reality. When all is said and done, I will continue to serve my sentence with head held high, and I will pray to the Creator of the Universe, He who Releases the Imprisoned, that I return home quickly to my beloved family. I again thank the Jewish People for their support all along the way."