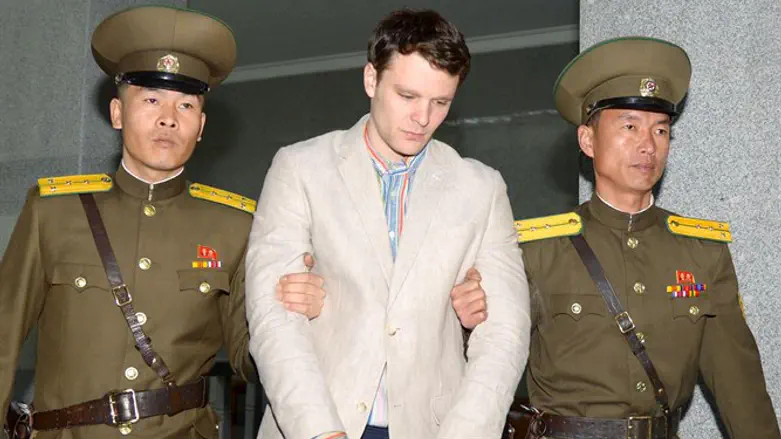 Otto Warmbier in North Korea
Reuters
US college student Otto Warmbier has landed back in the US, after more than 17 months under arrest in North Korea.
According to Fox News, Warmbier's father said that his son was released after diplomatic action involving high-level officials in the US government - including US special envoy to North Korea Joseph Yun, Secretary of State Rex Tillerson, and President Trump himself.
The University of Virginia student had been arrested by North Korean officials last year and sentenced to 15 years of hard labor, after he was charged with trying to take a propaganda banner from an area reserved for North Korean staff and forbidden to foreigners at the Yanggakdo International Hotel, where he was staying as part of a New Year's tour group.
Warmbier's parents, Fred and Cindy Warmbier, said in a statement that their their son had, in fact, been in a coma for more than a year.
"Otto has left North Korea. He is on Medivac flight on his way home. Sadly, he is in a coma and we have been told he has been in that condition since March of 2016. We learned of this only one week ago," they announced.
A source close to family told CNN that Warmbier had contracted botulism, a rare disease caused by eating spoiled canned food or an infection in an open wound which can be treated by an antitoxin if done immediately, last year. Then, after being given a sleeping pill, Warmbier fell into a coma from which he never woke, a State Department official told CNN, citing what North Korea told a US official.
"We want the world to know how we and our son have been brutalized and terrorized by the pariah regime in North Korea. We are so grateful that he will finally be with people who love him," Warmbier's parents said in their statement.
According to Fox News, immediately after landing in Cincinnati, Warmbier was rushed to University of Cincinnati Medical Center for urgent treatment.