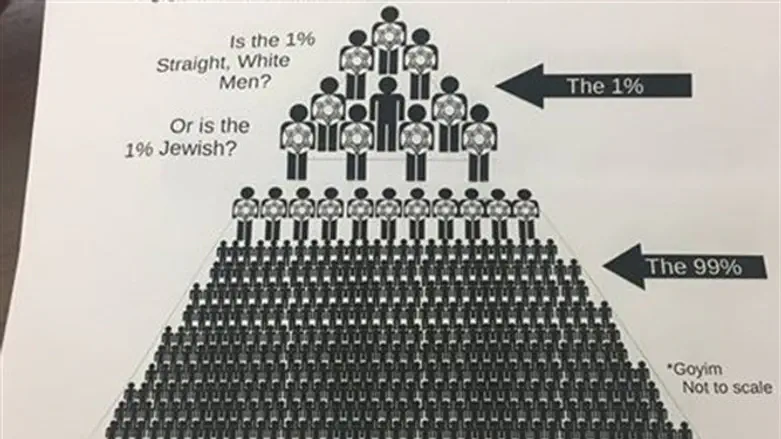 'Jewish Privilege' poster found on UIC campus
Courtesy of Eva Zelster
Posters plastered across the University of Illinois at Chicago campus accusing American Jews of benefiting from "Jewish privilege" have rattled the local Jewish community amid a wave bomb threats and vandalism targeting Jewish institutions nationwide.
The posters reference the idea of "white privilege," a notion pushed by the American progressive-left claiming that disparities in social and economic outcomes between racial groups in the US can be attributed to discreet forms of racism favoring white individuals over minorities.
While calling for an end to "white privilege" the poster proceeds to suggest that white privilege is in fact largely "Jewish Privilege," mendaciously claiming that nine-tenths of America's richest 1% are Jewish.
"ENDING WHITE PRIVILEGE… STARTS WITH ENDING JEWISH PRIVILEGE"
"Jewish Americans make up 2% of the population. 44% of these Jewish Americans are in the top 1%," the poster reads.
While Jews do on average earn more than the national average, the percentage of Jews found among the top 1% of earners is far less than 44% of the Jewish population, and Jews do not make up anywhere near 90% of the top 1%. The 44% figure, which cites a 2009 study by the Pew Research Center, is in fact a misquote of the Pew report, which only shows that 46% of Jews earn more than $100,000 a year.
But in 2016 the threshold for the top 1% of income earners was far higher - $465,626 for an individual taxpayer according to the IRS, and $1,260,508 for a household, according to the Washington Center for Equitable Growth.
The poster also includes a pyramid, featuring 10 silhouettes on the top representing "The 1%", showing 9 of them with Stars of David. The remaining "99%" is shown below, with an additional line of silhouettes with Stars of David standing on top of a mass of smaller figures. A note on the side of the pyramid writes "Goyim not to scale" and then:
"If there were 1000 people in the United States…
"10 of them would be in the top 1%, 20 of them would be Jewish, 9 of them would be Jewish and in the top 1%. Is the 1% straight, white men? Or is the 1% Jewish?"
No organization or individuals have claimed responsibility for the posters, and it is unclear whether they are the products of members of the far-left or far-right.
The term "Jewish Privilege" has been employed both by white supremacists and anti-Israel elements on the far-left, including +972 Magazine.
UIC Chabad House President Eva Zeltser, who publicized the discovery of the posters, called upon the university's dean of students to act against such expressions of anti-Semitism.
"Things like these posters are actively posted to catalyze anti-Semitism and increase hate towards Jews," Zeltser wrote.
In response, school administrators issued a statement calling on students to avoid "prejudice or stereotypes".
"Today, anti-Semitic posters were found on campus that defame, insult and negatively portray Jewish members of our campus community. Such actions do not reflect the values we hold as a community. Acts that invoke hatred or violence toward members of our community will not be tolerated on our campus."
"As we investigate this recent event, we strongly encourage all members of our university to exercise their right to free speech in a manner that recognizes these principles and avoids prejudice or stereotypes."