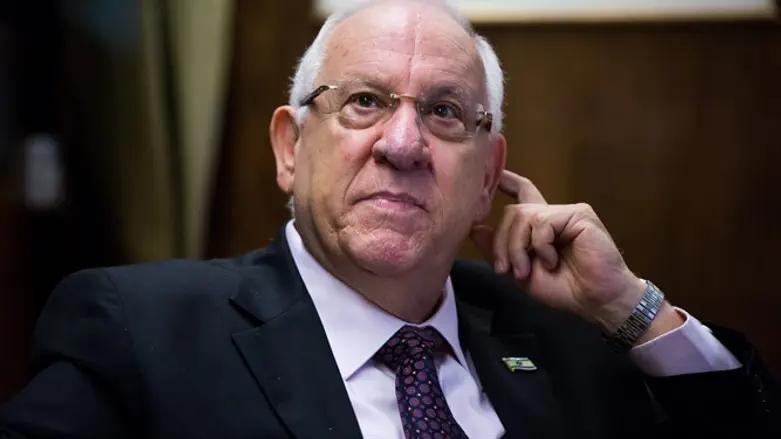 President Reuven Rivlin
Flash 90
Israeli President Reuven Rivlin on Monday held a working meeting at his Jerusalem residence with President of Bosnia and Herzegovina Dr. Mladen Ivanić.
Ivanić's visit marks the first official visit of a President of Bosnia and Herzegovina to Israel.
Ivanić visited Israel during his time as Foreign Minister.
Rivlin greeted Ivanić and spoke of the importance of his visit.
"This is the first visit of a President of Bosnia and Herzegovina, an important and welcome moment. We welcome you on our arrival, and appreciate he relations between our states," Rivlin said. "Like us, you are a multicultural state.
"In Israel, Christians, Jews, and Muslims live together and it is our duty to realize that living together is possible despite the obstacles that we face from time to time.
"Knowing the obstacles and knowing the challenges, we also know the opportunities.
"We have no war with Islam, please tell your people, that in Israel there is no religious war. In our meeting we will talk about the challenges that all of the world is facing now; the threat of ISIS, extremists, fundamentalism.
"Your visit is a significant and important visit for us and we hope to deepen our existing cooperation. We are very proud of what we have achieved until now, and know that there is so much more we can achieve through our cooperation."
Ivanić thanked Rivlin, and recalled together with him his prior visit to Israel.
"Bosnia and Herzegovina is a very unique country - twenty years ago there was a very real war, with 100,000 citizens killed, and millions displaced," Ivanić said. "Twenty years later we are more or less a normal country – maybe not perfect – but we can live peacefully."
"In comparison to other countries around the world, it is difficult to find other examples of where the international community was so successful.
"We believe that we have to share this experience with countries who are similar to us or share the same problems. We live in a multi-ethnic society and we have had to learn to live in that society which is not easy in the modern world with many kinds of extremism."
"It would be very important for us to continue our cooperation, for a lot of reasons, especially to share your experience on how to develop our economy. We would like to learn how to have this multi-ethnic approach and because of that I want to deepen even more the relationship between Bosnia and Israel."
The two presidents went on to speak about ways to strengthen the ties between the two countries, as well as developments in the region, including the danger posed by Iran.
At the end of the meeting, President Ivanić presented President Rivlin with a copy of the "Sarajevo Haggadah", an illuminated manuscript and one of the oldest copies of the text used by Jewish people on Seder night, dating from the mid 14th century in Barcelona. It was sold to the National Museum in Sarajevo, Bosnis in 1894.
The original copy survived unscathed through the Holocaust and the civil war in the country.