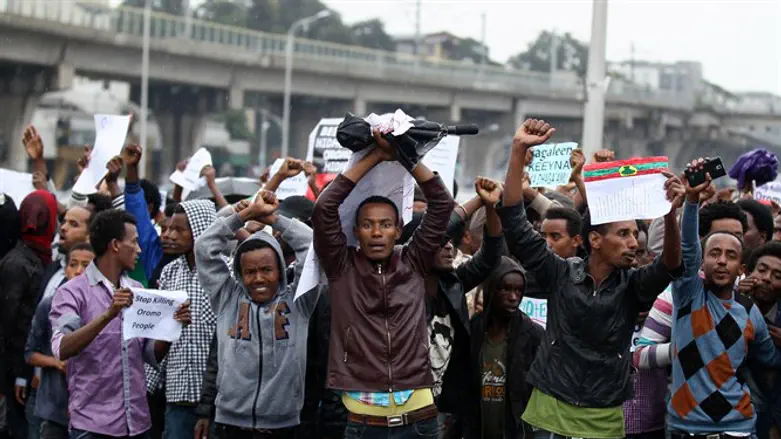 Protests in Ethiopia
Reuters
The Foreign Ministry issued a warning on Thursday against traveling to Ethiopia, while skirmishes intensify around Amhara.
From the beginning of August, the Amhara and Oromia regions of Ethiopia have been rife with protests, which led to violent clashes between protesters and security forces. In the cities of Gondar, Bahir Dar, and Debre Tabor, hundreds have been killed and injured.
Yesterday, as the security situation around Ethiopia's centers continued to worsen, Ethiopia announced a state of emergency in the Amhara province. Officials fear that the regional violence will spread to Oromia.
The Foreign Ministry recommends avoiding the Amhara and Oromia regions entirely.
The ministry's statement also warned visitors against attending public gatherings and protests, and to remain vigilant. Traffic may be disrupted, as well as telephone and internet services.
The ministry also pleaded with Israeli citizens to not go within ten kilometers of the Ethiopia-Eritrea border, nor the Ethiopia-Sudan, Ethiopia-Kenya, and Ethiopia-South Sudan borders. It emphasized that any such action is a person's private decision, and there is no Israeli law preventing such a visit.