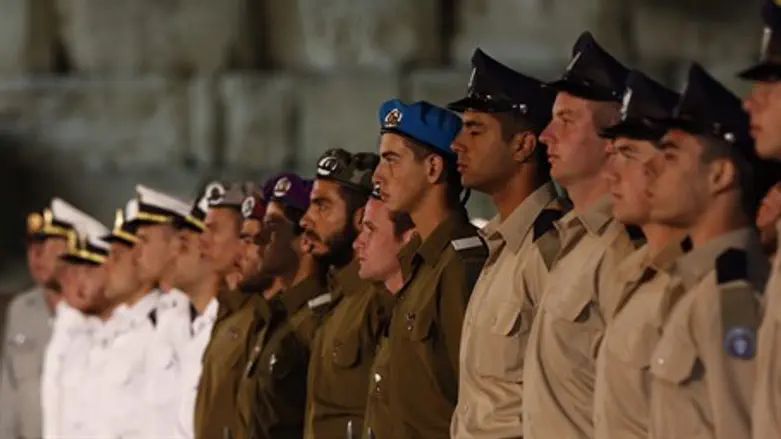 IDF soldiers stand to attention at Kotel Memorial Day ceremony (file)
Yonatan Sindel/Flash 90
A full 23,447 Israeli soldiers have died in action, the Defense Ministry published Friday, ahead of Memorial Day (Yom HaZikaron). 
Sixty-eight additional soldiers fell over the last year; 59 were IDF veterans who died as a result of war-related injuries. 
The data also showed that there are now 9,442 bereaved families, 4,917 widows and 1,948 orphans.
Memorial Day falls on Tuesday night/Wednesday next week, and will begin with a siren at 8 p.m.; Memorial Day ceremonies will begin nationwide immediately following the siren. 
On Wednesday, at 11 a.m., the siren will sound for two minutes, followed by daytime ceremonies and visits to Israel's military cemeteries. 
The Defense Ministry's Families and Memorials division, which is in charge of Memorial Day events, noted that 1.5 million Israelis are due to visit 52 military cemeteries this year, as well as hundreds of military burial plots from Kiryat Shmona in the north to Eilat in the south. Hundreds of buses and shuttles will be available for the visitors. 
In addition, Magen David Adom (MDA) will dispatch 132 mobile units to cemeteries nationwide, to distribute water and ensure the health of visitors. 
Every year around Memorial Day soldiers place a candle, a flag, and a bouquet of flowers on the graves of the fallen. 
Major events nationwide will include the Yad L'Banim Memorial Day ceremony, on Tuesday in Jerusalem at 4:30 p.m.; an 8 p.m. torch-lighting ceremony at the Western Wall (Kotel); at 9:15 p.m., a special ceremony at the Knesset; the official ceremony at 11 a.m. at Har Herzl on Wednesday; and at 1 p.m. Wednesday at Har Herzl, the official ceremony for terror victims and their families.