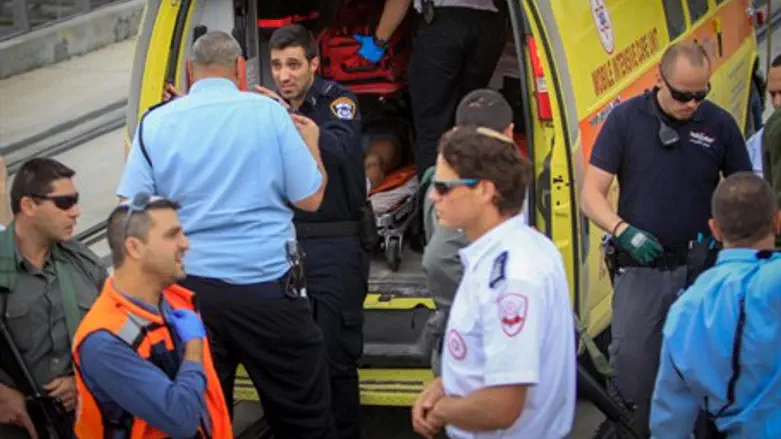 Illustrative: victim evacuated into ambulance after terror attack
Muammar Awad/Flash90
Following the killing Wednesday afternoon of 30-year-old Karmei Tzur resident Eliyav Gelman by an Arab terrorist in Gush Etzion, MDA has publicized a comprehensive overview of the ongoing terror wave.
Beginning with the murder of 64-year-old Alexander Levlovitz in Jerusalem on the eve of the Jewish New Year, the number of Arab attacks on Jews has risen dramatically around the country, with an especially marked rise in Judea, Samaria, and Jerusalem.
In the five months since Levlovitz's murder in September of 2015, MDA has recorded a total of 222 terror attacks around the country. This terror wave, which has been dubbed "the stabbing Intifada", includes 93 stabbing attacks, 15 shootings, 23 car attacks, and 91 stone throwing attacks.  
The death toll, from Levlovitz's murder in September through to the attack on Eliyav Gelman today, now stands at 33. MDA treated 311 wounded terror victims, including 29 in serious condition.
Following Wednesday's attack, MK Shuli Muallem called for Arab terrorists to be killed at the scene of their attacks.
"The war against terror has to be total, every murderer who comes to commit an attack needs to understand that they won't return home alive," Muallem said.